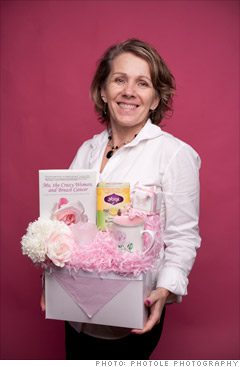 Company: Wings of Angels
Location: Lancaster, Pa.
Linda Fisher underwent a double mastectomy after she was diagnosed with breast cancer in 2003 at the age of 40. When she returned home to recover, Fisher was greeted with flowers, cards and other gifts from well wishers.
While these items were comforting, they didn't actually help relieve her of the physical pain she was feeling. That sparked an idea.
"There were so many other things that I later learned would have made my recovery time easier," said Fisher. With about $7,000 in startup money, she reached out to the SCORE small business mentoring program in her area in 2008 and worked with a business coach to help launch Wings of Angels, a company that makes customized care baskets.
"There are many gift basket companies out there but not one that focuses on making recovery baskets," said Fisher. For her care basket, Fisher looked for items that breast cancer surgery patients really need and not "so much the fluff stuff, like pink socks and chocolates," she said.
Her recovery basket includes such items as a post-operative camisole specifically designed for recovery, a heating pad and one of her favorite products -- a heart-shaped support pillow that fits under the arm and cushions the surgical area.
Fisher started with one concept basket and now has five theme baskets ranging from $65 to $175, including a bereavement basket and a "Tender Talk" basket designed to help explain cancer to children.
"The business started very strong. With the way the economy is right now, it's challenging. But we should be able to cover our expenses," said Fisher