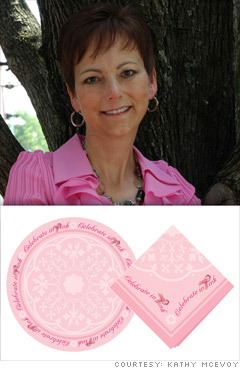 Company: Celebrate in Pink
Location: Fairfax, Va.
Kathy McEvoy, 54, was diagnosed with breast cancer in 2005. It was on the Friday before Memorial Day weekend. Four days later, she quit her job. "It was a huge wake-up call," she said.
Until then, she was a senior executive, "making lots of money." She shifted her focus to her husband and two sons and on rewriting her life story.
In 2007, McEvoy participated in her first Susan G. Komen Race for the Cure event in Washington, D.C. She was excited about hosting a luncheon afterwards for family and friends who had supported her at the event.
In keeping with the day's theme, McEvoy went hunting for dinner plates and napkins featuring the iconic pink ribbon that signifies breast cancer awareness. But she couldn't find them anywhere. "The entrepreneur in me immediately said that this could be one idea that I bring to market," she said.
With a $50,000 investment, McEvoy founded Celebrate in Pink in 2008 and launched a line of paper plates and napkins that feature her distinctive pink ribbon design and are made in the United States. "I was once vice president of product development. So I had the business experience to know what to do," she said.
McEvoy said Celebrate in Pink is a "socially responsible" company, adding that a percentage of all sales go towards providing financial assistance to women who are fighting breast cancer.
McEvoy, who declined to disclose her annual sales, said the economy has been tough on her business. But she'll still break even this year. After getting a trademark for her pink ribbon design, she is hoping to license it as a way to grow her business. "My goal ultimately is to have my own non-profit and continue to help women in need," she said.