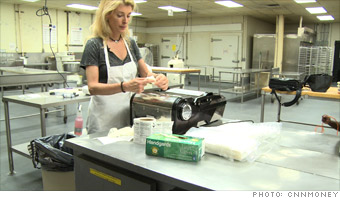 Incubator: Mi Kitchen es su Kitchen
Location: New York, N.Y.
No matter what the state of the economy, food businesses never go out of style.
In fact, bad times tend to spark an uptick in companies focused on food, said Kathrine Gregory, founder and director of the kitchen incubator Mi Kitchen es su Kitchen.
Gregory said people who have either lost their jobs or want to start a business on the side, often think about a food-related startup.
"Many times these ideas stem from a recipe that's been in the family for years," she said. At the same time, she said the fast-growing immigrant population in the United States is also fueling demand for unique food products.
"Becoming a food entrepreneur is not a very expensive proposition," said Gregory, adding that there's also instant gratification in selling your products and seeing how people respond to them.
"You can probably start a small food business, like a table at a farmer's market or a small catering operation, with $10,000 in investment," she said.
However, starting a food business has its challenges: The competition is fierce, the number of regulations to follow many, and having to deal with the fickle tastes of the public frustrating. So wannabe food entrepreneurs might want to consider a food incubator for some help in getting their ideas off the ground, said Gregory.
The Mi Kitchen es su Kitchen incubator started in 2005 with one client. Today, more than 150 entrepreneurs -- 90% of whom are still working either full-time or part-time somewhere else -- use the 24/7 commercial space and kitchens. Concoctions include white-chocolate brownies and gourmet-gluten-free products.
The incubator, which is a private-public collaboration, recently received $175,000 in funding from the NYC Economic Development Corp. Queens Economic Development Corp. also gave $250,000.
"They come and use the space whenever they need it. It could be a few times a week or once a month," she said. If their product really takes off, Gregory estimates that a startup could make $30,000 to $50,000 in annual sales.
Gregory said startups sometimes stay only for one year or up to three years.
One recent success story for Gregory is inventors Wendy Freidmann and Roxanne Kam, whose "heavenly frozen souffle," packaged in a ceramic pot, is now sold nationwide at Whole Foods.