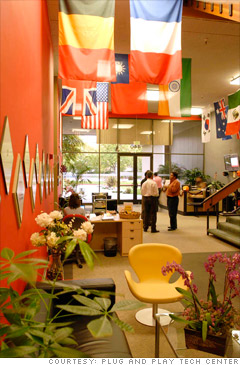 Incubator: Plug and Play Tech Center
Location: Sunnyvale, Calif.
Arguably one of the hottest technology startup incubators in the country, Plug and Play Tech Center has graduated some of the best-known tech superstars in the country. Among them are DropBox, mobile startup Danger and PayPal.
Based in the heart of Silicon Valley, the incubator is home to 329 companies.
"Our goal is to find the most promising companies in the world, invest in them and help them grow," said Saeed Amidi, founder and CEO of Plug and Play Tech Center. "Our primary goal is to find the next Google."
Coincidentally, the tech incubator's building once provided lodging to Google in its early years, although the company was not a member of the incubator.
Amidi makes no secret of how aggressive he is about his quest to find and grow the next tech titan.
"I like young, enthusiastic entrepreneurs straight out of university," he said. "Yes, it is extremely competitive to be accepted into our program. For us to take your company, we have to feel that your idea is good enough for us to invest $100,000 in it."
"On average we hold five funding events every month and raise $10 to $15 million for these startups," he said. Last year, 16 companies graduated from the program and generated total revenue of $700 million.
"This is really the best time to start a company in the web, tech and mobile world," said Amidi.
Smartphones, cloud-based storage and location-based services are trends creating a ripe environment for tech entrepreneurs, he said. These trends "will change everyone's lives and everything that they do."
Successful graduates of the incubator include the Lending Club, a peer-to-peer lender, and dating website Zoosk.
"Zoosk already has 60 million users," he said. Soundhound, an instant music identification app, which stayed at the Plug and Play Tech Center for three years, is already challenging its peers in the music industry," said Amidi.
Still, he offered a reality check for hopefuls: "Be ready. 50% of tech startups don't make it and only 50% get the next round of funding that they need," he said.