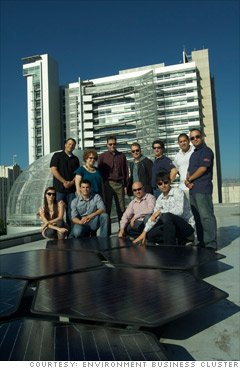 Incubator: Environmental Business Cluster
Location: San Jose, Calif.
As the sister incubator of the San Jose BioCenter, the Environmental Business Cluster is the largest environmental and "clean technology" incubator in the country.
"This incubator was promoting clean technology even before clean technology was in vogue," said Melinda Richter, who is also executive director of the San Jose BioCenter. What is clean technology? "This is technology that aims to solve environmental problems but in a profitable way," said Richter.
Over the years, the challenge that clean technology startups have faced is trying to figure out where they fit in the business world, she said. That's not the case anymore. "This has grown to become one of the most vibrant areas for new ideas," Richter added.
At the incubator, which was named incubator of the year in 2008 by the National Business Incubation Association, the program has helped more than 150 startups get off the ground since its inception.
Richter said the hottest areas for new ideas seem to be concentrated in three areas: energy generation through solar use, water purification technology and systems, and recycling.
"We have a company, Alphabet Energy, that raised $12 million in funding recently," said Richter. "This company has figured out how to turn waste into low-cost thermal energy."
Another startup in the incubator, Armageddon Solar, is developing affordable, and nice-looking solar energy roofing.
Richter said getting investors to back a clean tech idea that's still in its infancy is a struggle. But she's optimistic that funding will start to pick up. Among the program's success stories is MicroMidas, which invented technology that converts poop into plastic. It raised $3.6 million in funding.
Another startup, GreenVolts, which makes affordable solar energy panels for residential and commercial use, has raised $50 million in funding, she said.