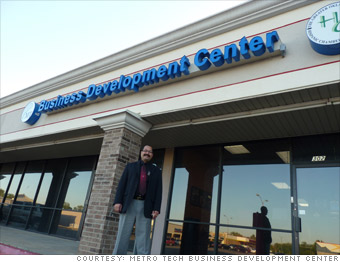 Incubator: Metro Tech
Location: Oklahoma City, Okla.
The Metro Tech incubator caters specifically, but not exclusively, to Latino entrepreneurs among the booming Hispanic population in the area.
"About 11% of Oklahoma City's population is Hispanic," said Reinaldo Diaz, director of the Metro Tech business incubator. "And there is a growing entrepreneurial spirit among them."
The challenge, however, is that many of these budding small business owners don't have the tools to get started.
"There aren't many incubators in the country like ours that cater to minority entrepreneurs and help start community businesses like translation centers, a construction company, electrician and mechanic business or ethnic food restaurant," said Diaz.
Started in 2008, Metro Tech's small business entrepreneur program works in partnership with Oklahoma City's Hispanic Chamber of Commerce. It provides both in-house residence for entrepreneurs and a six-month business development program. "We can only incubate five businesses right now," said Diaz. "But through the business classes, we can provide business training for up to 400 individuals every year."
Metro Tech is slowly building a successful track record. In its first year, the program helped launched 16 companies and 37 local jobs; in its second year, 16 businesses and 61 jobs. This year, it was 37 new companies, plus 124 jobs.
Its recent success stories include a restaurant owner who had one location when he joined the program and now has three, said Diaz.
"Since we opened, our total economic impact through job creation has been about $13.7 million generated in payroll," he said.