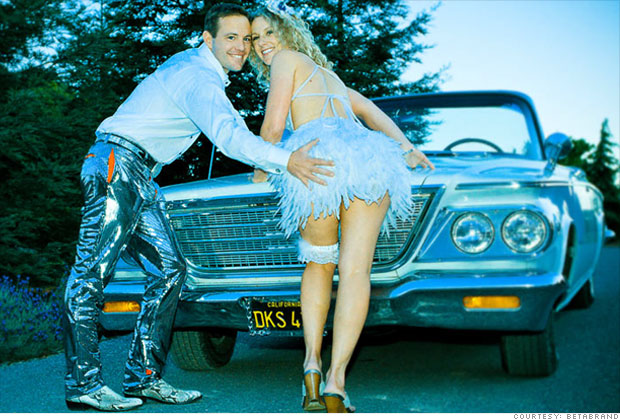 Price: $100 for pants; $125 for hoodie
A chance visit to a discount fabric store would later turn into one of Betabrand's most popular items: Disco pants. Launched last August, the company has sold 2,000 pairs so far.
Lindland created four pairs after he saw 10 yards of shiny silver fabric in an L.A. store. He gave the pants, which twinkled like a 70's disco ball, to people he knew. One was a fashion photographer, who took pictures of himself wearing them, explained Lindland. Others saw the photos and soon word spread, he said. It wasn't long before people started contacting Betabrand about them.
The breathable, stretchy polyester covered in tiny Mylar mirrors was hard to find.
In fact, it took Lindland three years to track it down to a fabric maker in South Korea. He soon cut a deal with him to become Betabrand's supplier.
Fans of the pants include golfers and Burning man enthusiasts, participants in the popular counterculture Nevada music festival. Grooms have even sent Lindland photos of themselves wearing disco pants at their own weddings.
Next up: baby disco pants. "Many moms were writing to us saying they'd love these for their babies," said Lindland.