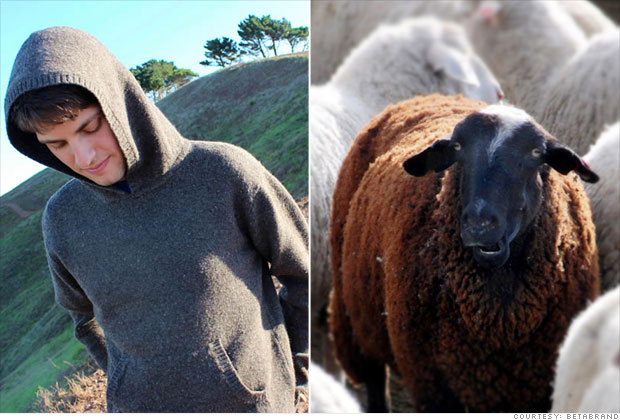 Price: $120 for sweater; $140 for hoodie
To many, "black sheep of the family" is a disparaging comment. But to Christopher Lindland, CEO of online retailer Betabrand, it is money-making fashion for men.
The company's black sheep wool sweaters and hoodies are among its bestsellers.
The idea for them was sparked after Lindland took a trip to Ireland in 2008. There he saw sprawling sheep farms with flocks of white sheep sprinkled with some black ones. He wondered if black sheep wool could be used to make sweaters. One farmer said yes, but added that the wool was not as desirable, because of its coarseness and the negative black sheep saying.
Lindland started to think: "Why can't I take a figure of speech and turn it into wearable fashion?"
When he returned to the United States, he scouted U.S. sheep farms. This summer, he found one in Montana that was able to supply him black wool. He also gets black wool from a farm in Ireland.
A Wyoming mill processes the wool and turns it into organic yarn. The yarn is then woven into sweaters at a knitting factory in California.
The company made 400 men's black sheep wool sweaters and hoodies last fall and sold out of those in a week. It has produced 550 more black sheep wool sweaters and hoodies for this fall.