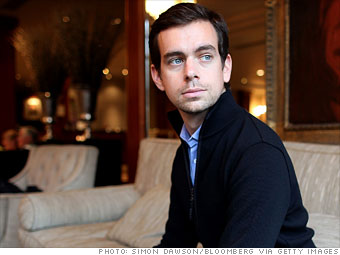 CEO and founder, Square
It only takes one great idea to radically change the way we think. Jack Dorsey, 34, has had two so far. In 2006 Dorsey created the microblogging network Twitter, where he still serves as product chief. His new venture is Square, a mobile payment service that replaces the traditional payment apparatus of credit card reader machines, merchant bank accounts and back-office computers.
To use Square, merchants simply plug a free plastic square-shaped dongle into an iPhone, iPad or Android device, turning it into a mobile credit card reader. The service has been a particular boon for smaller merchants who don't normally take plastic. Even more enticing, the startup doesn't charge flat transaction fees, though it does scrape 2.75% from each transaction.
Dorsey co-founded Square in 2009. Today the company processes $3 million in daily transactions, which implies annual revenues of around $30 million. More than 50,000 small businesses are signing up each month. Square recently nabbed an additional $100 million in venture funding, quadrupling the company's value to $1 billion.
The crucial element in this early success is Dorsey himself, who currently puts in at least eight hours a day running Square, plus another eight-plus hours leading product development at Twitter. "Many people come up with complicated answers to complicated problems," says Square COO Keith Rabois. "Jack is extraordinary in that he's able to reduce a very complicated set of features into a very elegant but simple solution that `just works,' which is orders of magnitude more difficult."