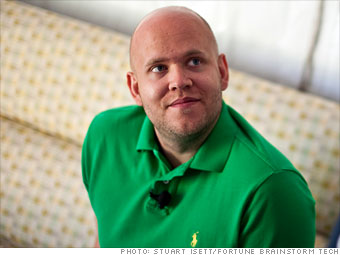 CEO and co-founder, Spotify
For years, Spotify was the hot music service that Americans couldn't get their hands on. Its journey across the pond from Stockholm was fueled by promises, speculation, and drawn-out licensing negotiations with record labels. Now that it's here (Spotify launched in the U.S. in July), the music streaming service founded by Daniel Ek seems poised to transform the way stateside listeners consume music, just as it did in Europe.
"All-you-can-eat" music services have existed in the U.S for some time, but none of them work quite like Spotify, a simple, fast, and legal stand-alone application that lets users listen to and share the service's 15 million-plus tracks for free. Whereas Rhapsody requires upfront monthly paid subscriptions, Spotify uses a freemium model. The free tier is ad-supported, with no listening caps for the first six months; premium plans let users go mobile and store songs on their mobile devices. Spotify uses money from ad sales and subscription fees to compensate labels and artists.
Ek also created a snappy user experience that outpaces even iTunes, which offers about a million more songs than Spotify but makes users pay upfront and wait for tracks to download before listening to them in full. Ek put stock in the belief that if you open up the entire music catalog to users for free, they will eventually get sufficiently hooked to pony up those subscription fees. The numbers speak for themselves. To date Spotify reaches 10 million users in Europe, and 1.6 million of those are paid subscribers.