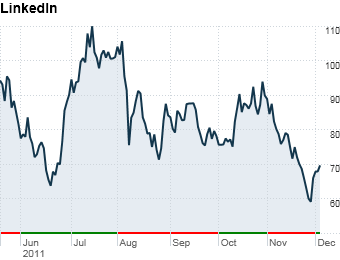 Ticker: LNKD
IPO date: May 19
IPO price: $45
Now trading at: $69.95
Revenue for first 9 months of 2011: $354 million
Profit for first 9 months of 2011: $5 million
LinkedIn shares nearly tripled in early public trading and ended their first day at $94.25 -- more than double LinkedIn's $45 IPO price.
Investors initially didn't seem concerned that until last year, the company was in the red almost every year since its 2003 inception. (In 2006, it turned a slight profit on sales of $32 million.) But shares began dropping in May, and by June 20 LinkedIn was below $64 a share.
A July spike took shares back to nearly $110, but they took another dive in late November when LinkedIn insiders began unloading shares. IPOs typically come with "lockup" agreements preventing employees and early investors from unloading their stakes; LinkedIn's expired on November 20. A few days earlier, LinkedIn revealed that its early investor Bain Capital planned to dump its entire $275 million stake.
LinkedIn shares fell sharply the week after its lockup period expired.
An analyst report from Trefis.com called that decline "an implicit acknowledgement that perhaps LinkedIn really is over-valued." Trefis's analysis set a LinkedIn price target of $43 a share -- sharply below the current price.