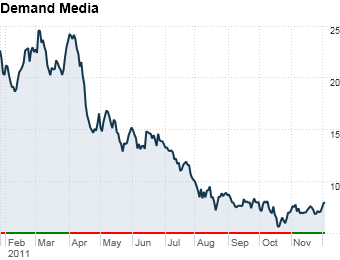 Ticker: DMD
IPO date: January 26
IPO price: $17
Now trading at: $8.06
Revenue for first 9 months of 2011: $240 million
Loss for first 9 months of 2011: $15 million
Demand Media's January IPO kicked off 2011 with a pop. Shares of the online content creator closed 33% higher on its debut day, valuing the company at more than $1.5 billion.
It was a surprising debut, considering the criticisms that plagued Demand's road to the stock exchange. Demand CEO Richard Rosenblatt had insisted for years to media outlets including Fortune that his company was profitable. But in its IPO filing in August 2010, Demand disclosed that it was more than $6 million in the red for the year so far. It posted a net loss of $22 million in 2009.
Demand also faced criticism of its unorthodox accounting methods. Demand doesn't expense the cost of paying its writers upfront, as content companies typically do. Instead, it spreads those costs over five years, which boosts its bottom line.
Analysts marveled at the content churned out -- "It was amazing. They literally wrote 2 million articles in a year," an analyst commented to Fortune last month -- but Demand's method isn't working as well as it once did. In February, Google rolled out a change to its algorithm that pushed articles like Demand's lower in search results.
Demand stock managed to hold around its highs for the first quarter of the year, but it's been a sharp and steady decline ever since. Shares have lost more than 65% far in 2011.