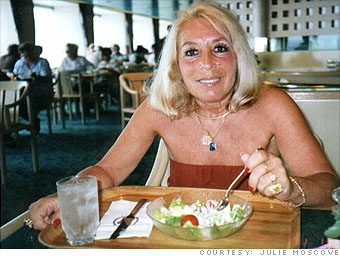 Julie Moscove, 69
Fort Lauderdale, Fla.
After being burned in the stock market, my money is almost entirely in savings.
At one point, it was being built up by good interest rates, and now it's barely moving. CDs and money market funds offer next to nothing. I earn half of a percent or less.
The baby boomers are the ones who supposedly have all the money, but we're not regenerating this money because the Fed is keeping interest rates so low.
As a result, we're not creating the spending that will grow the economy. In fact, I've had to cut back on my spending. Now, I only get what I need -- no luxuries.