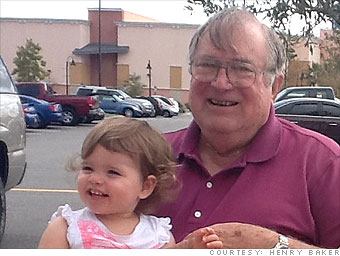 Henry Baker III, 75
Jacksonville, Fla.
Just a few years ago, I was earning 4.7% interest on my $80,000 in savings. The income paid for a week-long vacation for me and my wife, plus more.
In 2011, that rate dropped down to 0.15%. It's ridiculous!
I took everything out of CDs at the beginning of this year when my bank closed (another unfortunate sign of the times), and I went to a bank that offered a special checking account with a 0.5% interest rate.
Within six weeks of opening that account, it dropped to 0.35%. That said, it's still better than any other investments I can find, including bonds.
About a quarter of my net worth is in that checking account. The rest of my funds are invested in mutual funds and a few individual stocks.
When a retiree today loses investment value, they have to pull from somewhere to meet their expenses. As you trim interest rates, it starts hitting us in the pocket.
I don't even know if we're going to make a trip this summer.