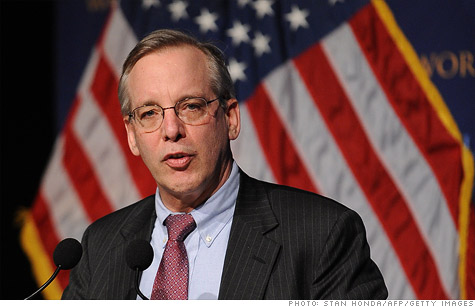 New York Fed President William Dudley owned more than $100,000 in shares of companies that received emergency assitance in 2008.
NEW YORK (CNNMoney) -- As he helped orchestrate the Wall Street bailouts, William Dudley -- now president of the New York Fed -- owned more than $100,000 stock in AIG and General Electric, two firms that received government assistance.
That's one of many revelations found in the hundreds of pages of financial disclosure documents for current regional Fed presidents, released by the 12 Federal Reserve banks on Tuesday afternoon.
"In order to promote transparency and in response to media interest, the Federal Reserve Banks are today making available the financial disclosure forms and related documents filed by their current Presidents with Federal Reserve Bank Ethics Officers," statements posted on the bank sites said.
Dudley's documents are perhaps the most controversial, since a government investigation into the Fed last year revealed that he had received rare waivers that allowed him to keep his AIG and GE investments while working on bailouts of the financial sector.
A former chief economist at Goldman Sachs (GS, Fortune 500), Dudley joined the New York Fed in 2007 to head the bank's markets group.
In 2008, he owned about 4,500 shares of General Electric (GE, Fortune 500) and 500 shares of American International Group (AIG, Fortune 500), along with roughly $1.45 million in Treasury Inflation-Protected Securities, or TIPS.
His other holdings included savings bonds and various mutual funds, as well as common stock in Pfizer (PFE, Fortune 500), Merck (MRK, Fortune 500), Medco Health Solutions (MHS, Fortune 500), Walt Disney (DIS, Fortune 500), Discovery Communications (DISCA), and a smattering of telecommunications companies.
Conflicts of interest
The AIG and GE shares made up only a fraction of Dudley's portfolio, but they posed a potential conflict of interest, when the Fed started negotiating aid for those companies.
On Sept. 16, 2008, the Fed agreed to an $85 billion bailout for AIG, in exchange for an 80% stake in the company. Three days later, Dudley was granted a waiver to allow him to continue working on the bailout, despite his investment in the insurance company -- which at that time amounted to about $1,200.
"Normally, the bank did not have regulatory authority over AIG, so this issue wouldn't have been on anybody's radar when he first joined the bank," said Robert Kelner, chair of Covington & Burling's Election and Political Law Practice Group.
"Once it became apparent that he would be directly involved in decisions affecting AIG, the conflict of interest was already there."
Meanwhile, the Fed asserted that while GE was not a part of the bailout at the time, its share price could be affected by the Wall Street aid because the company included GE Capital, a large financial services division. GE later went on to borrow $16 billion of commercial paper under a special Fed plan to free up credit markets.
Dudley owned GE shares worth about $107,000 at the time.
Typically, when a public official holds assets that might cause a conflict of interest, he or she is required to divest those assets. But in this case, Dudley was already privy to inside information, so selling his AIG and GE shares immediately was not a viable option.
"I'm sure he would have preferred to be free to divest himself of the AIG stock, but this was an ironic situation where he was actually compelled to retain his interest to avoid the appearance that he was relying on inside information," Kelner said.
Instead, the Fed allowed Dudley to sell his AIG shares at pre-determined random dates. He unloaded the AIG shares in 2010 and the GE shares in 2011.
That wasn't the only challenge though.
In early 2009, Dudley's TIPS holdings also became problematic when he succeeded Timothy Geithner as the president of the New York Fed. As part of that role, Dudley became a voting member on the Fed's key policymaking committee, which sets interest rates.
Again, the Fed's ethics officers granted Dudley a waiver, allowing him to keep his investments while working on the committee, despite the fact that his decisions could influence the value of those securities.
The Fed noted that the $1.45 million in TIPS made up less than 5% of Dudley's assets, which would mean his total portfolio exceeds $29 million.
"In this instance, the bank seems to have decided that essentially his holding in TIPS was not a big enough deal to require him to divest his holdings," Kelner said.
As part of the waivers, Dudley is not allowed to trade the TIPS and is required to keep them until their maturity date.
The Fed has kept interest rates at record lows since 2008, and just last week, the central bank predicted that it will keep them there for another three years.
The Government Accountability Office first pointed out potential conflicts of interests at the Fed in a report in July, when it found employees also had financial interests in Bank of America (BAC, Fortune 500), Citigroup (C, Fortune 500) and JPMorgan Chase (JPM, Fortune 500), at the time that the banks received emergency financial assistance.
Correction: An earlier version of this story implied in the headline that AIG and GE were bailed out by the government. In fact, GE did not receive a bailout, but did receive some forms of government assistance.