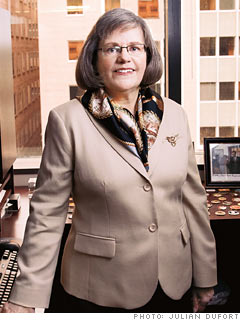 Holly Petraeus, assistant director, Consumer Financial Protection BureauWhy she's a hero:
Petraeus, 59, has spent years protecting the wallets of those who protect our country. Well aware of the strains faced by military families -- married to Gen. David Petraeus, she moved her own family 24 times in 37 years -- she helped thousands of households guard against debt and rip-offs by developing workshops at the Better Business Bureau.
Her current passion:
Tracking scammers who target servicepeople in one state (for example, by levying sky-high interest) so the fraud doesn't spread to another. Says Petraeus, now running CFPB's military programs: "Catching such despicable people motivates me to do my job."
Quote:
"If service members are preoccupied with or distracted by financial problems, they're unlikely to give full attention to their jobs. In the military, that can mean the difference between life and death."
Do you know a Money Hero? MONEY magazine is celebrating people, both famous and unsung, who have done extraordinary work to improve others' financial well-being. Nominate your MONEY hero.