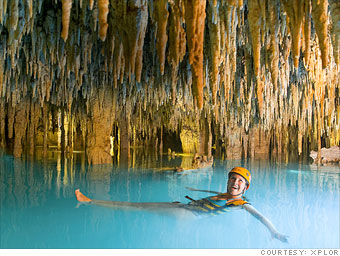 Total for 2 people, 5 nights: $1,875
Average Hotel Rate: $173
Average Airfare: $505
Why it's worth visiting:
This region just south of Cancun is known for its powdery white beaches and calm, clear waters. Resorts line the coast, with all-inclusive deals being a popular option.
While you'll surely want to soak up the Caribbean rays and snorkel the coral reefs, you'll also want to venture outside the hotel to soak in some history. Nearby Tulum is one of the best preserved coastal Mayan cities, and the ruins at Ek' Balam are just a few hours away. "It's an incredible site that isn't as crowded," says Hope Smith, a travel agent specializing in Mexico.
Why it's a deal:
The weak European economy has meant fewer visitors to Mexico. That especially hurts in Riviera Maya, which has the largest hotel inventory in the country. Drug-related crime has also dented tourism, even though the region is 1,000 miles from affected areas.
Result: "Hotel rates are depressed, even in high season," says Hotwire president Clem Bason. Flying here from the U.S. is a bargain compared with other popular beach destinations, though flights to Kauai run nearly $150 above average during peak season, per Travelocity.
Where to stay:
The four-star all-inclusive Barcelo Maya Palace Deluxe, which starts at $134 per person per night and is on the beach.