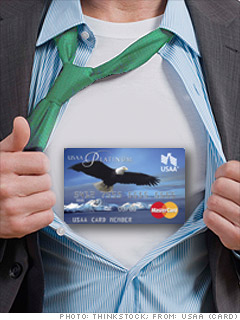 When you open USAA's secured credit card and make a minimum deposit of $250 to secure the account, USAA will automatically open a 2-year CD for you, where you can earn about 1% interest on your deposit.
As with most secured cards, that initial money you deposit to open the card -- from $250 to a maximum of $5,000 -- is the limit for the card.
Because of this opportunity to earn some interest, along with the card's low 9.9% APR and $35 annual fee, the USAA Secured Credit Card is a great option for consumers who want to rebuild their credit but don't qualify for a traditional credit card, said Amber Stubb, managing editor of credit card comparison website CardRatings.com.
However, unlike many of USAA's other cards that are open to the general public, this card is reserved solely for military members and their families.