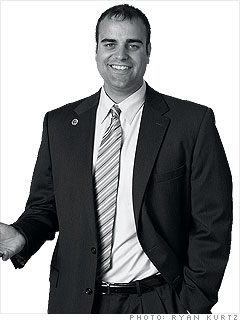 Brian Page,
35
On a crusade since:
2004
Day job:
High school personal finance and economics teacher
Achievement:
Educates kids about the benefits of getting started on saving
Why he's a hero:
"If you say 'personal finance' to teenagers," says Page, "they never say, 'Oh, sweet.'"
Well, not yet. The Cincinnati-area teacher co-created the award-winning Awesome Island board game -- think "The Game of Life" with budgets and bonds. He developed the personal finance curriculum at his school, and he's now helping write Ohio's standards for financial education.
"The words 'interest' and 'debt' should not be foreign to a kid who's 14," says Page.