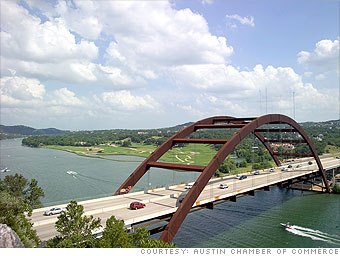 Population: 1,362,416
Growth (2000-2010): 51.1%
"Economically, the University of Texas is our 800-pound gorilla," said Dave Porter, spokesman for the Austin Chamber of Commerce. "Its terrific engineering program produces a lot of young talent and it's easy to recruit young people to come here [to work]."
The area, he said, has attracted the attentions of Silicon Valley's hottest tech companies. Several, including FaceBook and LegalZoom, have opened branch offices in the area. Dell Computer, in nearby Round Rock, has also spawned many tech supplier businesses.
The young vibe in town is enhanced by Austin's popular music scene, which is second to none. The city bills itself the "Live Music Capital of the World," and boasts nearly 200 live music venues, according to the Austin Conventions & Visitors Bureau.
Its cultural jewel is its annual South by Southwest, or SXSW, festival, a 10-day film, music and interactive arts gathering that's held each spring.