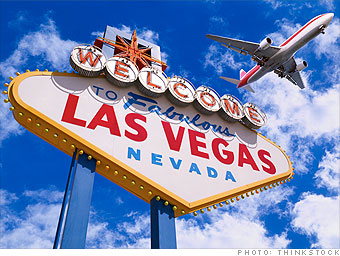 Population: 1,886,001
Growth (2000-2010): 43.5%
Las Vegas was ground zero for the foreclosure crisis, notching the highest foreclosure rate in the nation for 22 consecutive months until this February, according to RealtyTrac.
Despite that setback, the city still saw its population grow at one of the highest rates in the nation over the past decade, thanks to the continued popularity of its casinos, entertainment venues, resorts and other attractions.
During that time, Sin City's gaming-based economy soared. The number of annual visitors to Vegas topped 39 million in 2007 before dropping off to around 37 million, according to Mary Lynn Palenik, a gaming analyst for PwC.
Vegas' success can be credited to its expansion beyond gambling to family-friendly entertainment and other options to those seeking great restaurants, shows and hotels at reasonable rates.
"Less than half of [the city's] revenue now comes from the tables," said Palenik.