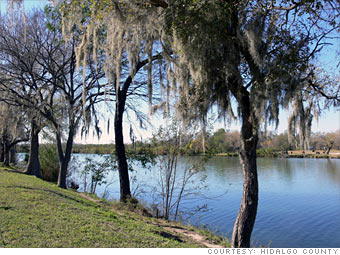 Population: 728,825
Growth (2000-2010): 39.3%
McAllen owes much of its extraordinary growth to its close proximity to the Mexican border.
The local mall's parking lots are regularly filled with cars displaying Mexican license plates. These shoppers, as well as those from other Texas towns and cities, have helped McAllen record some of the highest per capital retail sales in the state.
Thanks to the tariff-free trade agreements between Mexico and the U.S. and this convenient location, American companies, such as General Electric, Nokia and Panasonic Electronic Devices, have also opened up facilities in and around McAllen to be close to their production plants in Mexico.
Those jobs have enabled more of the area's college-educated residents to find work there instead of looking for jobs in other parts of the country. In fact, much of the city's population is young and many couples have been starting families, said Keith Partridge, head of the McAllen Economic Development Corporation.
Making it even more attractive for these young couples is that the city is so affordable. The cost of living in McAllen is about 17% below Dallas, 38% below Chicago and 54% less than New York.