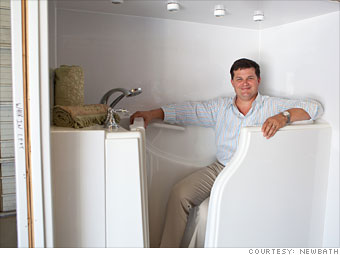 2010 Revenues: $7.9 million
5-year Annual Growth Rate: 53%

CEO: Larry Closs
Location: New Orleans, LA
About the business:
We all want a Jacuzzi, but most of us probably don't know how to install a bathtub. If you live in certain cities in the deep South, a company called NewBath can step in and take care of it.
The company, founded in New Orleans in 2003, focuses specifically on bathroom renovations. The bulk of its business doesn't come from luxury remodels, however, but rather from fixing up bathrooms to be more accessible for elderly patients who might need, say, a walk-in tub.
Founder Larry Closs wants to stay local, in its current Louisiana and Texas markets, and ultimately grow the business by expanding out of the bathroom and into the broader world of home improvement.