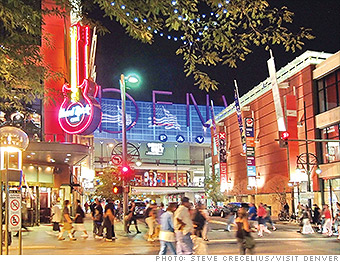 2011 startup rate: 420 per 100,000 adults
Colorado took a hard knock during the recession, and is still struggling with high unemployment of 7.9%, just shy of the 8.2% national average. But there's a silver lining: The state's job woes have ignited a surge in small businesses.
Many layoff victims who worked at top technology and aerospace employers there have decided to quit corporate America and start their own IT, manufacturing and home-based consulting services firms, said Tony Gagliardi, Colorado state director for the National Federation of Independent Business.
Business owners here are welcomed with state-funded training programs, a relatively low cost of living, and reasonable workers' compensation rates. Denver in particular, which is just 45 minutes away from popular skiing and camping sites, has become a burgeoning hub for entrepreneurs, especially those who have migrated from nearby California and Utah.
Still, business owners should be aware of some drawbacks. The state's personal property tax can become an impediment to growth. In Colorado, personal business property, such as a computer or furniture, is taxable for as long as a business owns it.