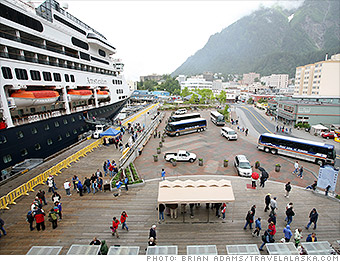 2011 startup rate: 410 per 100,000 adults
Alaskans say it takes a go-getter to succeed in their state. Indeed, if you want to start a business here, you better be undeterred by extremes like frigid, dark winters and long, hectic summer days.
Shop owners typically stay open late during the May-through-September cruise ship season. After all, they need to squeeze every dime possible out of the tourist throngs that flock to popular ports like Juneau and Anchorage in summer. Many bed & breakfasts and arts and crafts boutiques also depend on a flurry of summer visitors.
Niche business like small boat builders and repair shops aren't quite so seasonal, and tend to attract entrepreneurs. Food businesses are another good bet: Restaurants are very popular here.
Alaska may be one of the prettiest places to start a firm but it's not cheap. Its distance from the continental U.S. means high labor, transportation, and shipping costs. On the other hand, big oil money helps fund government services, so business taxes are low and there's no state income or sales tax.