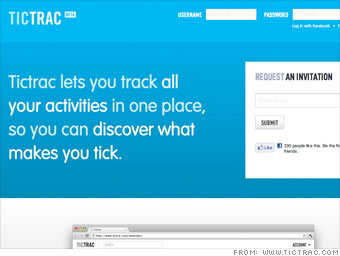 Mark Zuckerberg wants Facebook to record -- and broadcast -- every scrap of data about your life. He laid out that vision at last year's F8 conference, where Facebook unveiled its "frictionless sharing" platform for logging what you're reading (through "social readers" from sites like Washington Post and The Guardian) and listening to (Spotify).
That was phase one. Phase two, Zuckerberg promised, would be a wave of "lifestyle apps," for tracking "all kinds of different things about your life -- your runs, your bike rides, your cooking and eating, your sleeping, your happiness, your fashion, anything you want." Last week, Facebook launched an App Center encouraging developers to build those kinds of "social apps."
But there's no place to pull together all the data those apps share.
That's what U.K.-based startup Tictrac is building. It's a "personal analytics platform" that lets you aggregate data from a big collection of sources, from social sites like LinkedIn and Twitter to "body hacking" tools like Withings and RunKeeper.
That's the kind of data treasure trove Facebook would love to get its hands on -- and it plays right into the company's self-professed "social mission to make the world more open and connected."