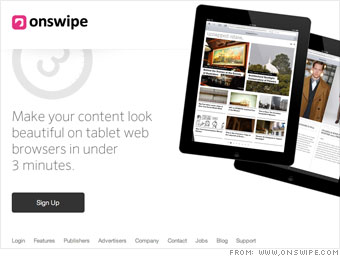 "Mobile" is priority No. 1 for Facebook right now, and its shopping patterns reflect that: It recently nabbed HTML5 app development platform Strobe to get hold of the company's mobile engineering team. If Facebook wants a similar play in the tablet space, it should look at New York-based OnSwipe.
OnSwipe's pitch: "Make your content look beautiful on tablet web browsers in under 3 minutes." Or, as founder Jason Baptiste, puts it: "If there's a touch screen, we want to power the way the world experiences it."
The mobile experience has been a pain point for Facebook, which is struggling to both improve and monetize its mobile apps. OnSwipe's team includes 14 engineers -- a talent pool Facebook might want to dip into.