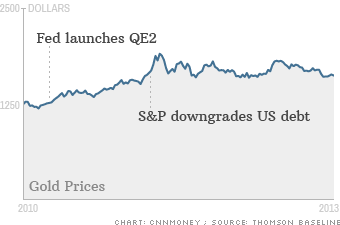 Gold bugs have had a shaky start to 2013, but things may be turning around for the precious metal.
While prices are down more than 3% so far this year, analysts Douglas Borthwick of Chapdelaine and Neil Meader at GFM both predict gold prices could top off at $1,800 an ounce by year end. That's nearly 13% above current levels.
The driver? Central banks launching -- or in the case of the Federal Reserve, continuing -- stimulus programs.
Just look the Bank of Japan. Its aggressive moves weakened the yen enough to spark currency war talk and inflation fears.
That could boost gold, used as a hedge against currency depreciation. Also, Cyprus has raised worries about the safety of bank deposits so investors may turn toward gold, a tangible asset, as a safety play. Bottom line: Investors are looking at gold not just as a hedge against inflation, but as a way to gain an extra edge in their portfolios.