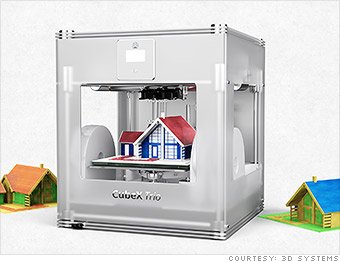 2
It's easy to see how a company that makes 3-D printers capable of creating everything from jet parts to sneakers would capture the imagination of Wall Street.
While 3D Systems (DDD) would appear to have enormous potential, the company's stock looks pricey. Its forward price-to-earnings ratio (PE), a closely-watched metric, is 42.5 -- the highest among stocks on this list and nearly three times the valuation of the S&P 500.
Short sellers have been circling the 3-D printer company, especially after it announced plans to acquire Laser Reproductions, a manufacturing and engineering services company. Perhaps shorts are betting this deal will blow up, like some big deals do.
Astec's stats suggest the deal caused a surge in demand to borrow 3D Systems shares and sent the cost to borrow them to record highs.
After printing out mega returns north of 160% last year, 3D Systems has been nothing but red ink in 2014. The stock is down nearly 50%.