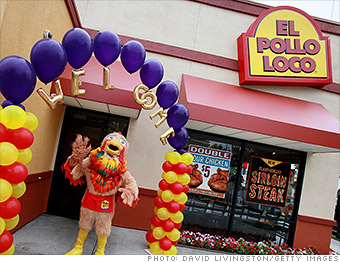 1
Wall Street went bonkers for El Pollo Loco (LOCO) when the Mexican-style grilled chicken chain went public last month.
The restaurant chain's shares spiked more than 60% during the first day of trading alone. After pricing its IPO at $15, the stock soared to nearly $42 on August 1.
Related: El Pollo Loco talks IPO
Apparently that euphoria set off alarm bells among short sellers, who place bets that stocks will tumble. They are eyeing El Pollo Loco because it's unprofitable. It has lost more than $50 million over the past three years.
"Virtually every security that has become available to lend is being snapped up," said Tim Smith, an analyst at SunGard's Astec Analytics team, which tracks how many shares short sellers are trying to trade.
Short sellers borrow and then sell shares, betting they can buy them back later at a cheaper price -- and pocket the difference.
Related: El Pollo Loco is NOT Chipotle
While that demand for shares may be normal after a "sexy" IPO, Smith said it's "fairly rare" people are willing to pay as much as they have been to borrow El Pollo Loco shares.
El Pollo Loco isn't helped by the post-IPO indigestion suffered by other recent restaurant stocks, including Potbelly (PBPB) and Noodles & Co (NDLS).