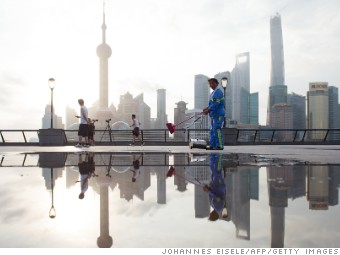 It's also helpful to see what did well last year. Anyone who bet on these five themes made a lot of money.
China: The world's No. 2 economy grew at its slowest pace in 24 years during 2014. So stocks must've tumbled, right? Wrong. The PowerShares China A-Share ETF (CHNA), which tracks major Chinese equities, skyrocketed 63% last year as the country's stock market roared. The Deutsche X-trackers Harvest CSI300 (ASHR) and Market Vectors ChinaAMC A-Share ETF (PEK) also ripped sharply higher last year.
India: Robust economic growth and the election of pro-business Prime Minister Narendra Modi combined to light a fire under Indian equities last year. The iShares MSCI India Small-Cap (SMIN) and EGShares India Small Cap ETFs (SCIN) surged 56% and 46%, respectively.
U.S. debt: Virtually no one expected Treasurys to do well last year but that's exactly what happened. Yields, which move in the opposite direction of prices, actually plunged even after the Federal Reserve ended its bond-buying program. That was great news for people who owned the PIMCO 25+ Year Zero Coupon U.S. Trs ETF (ZROZ) and the Vanguard Extended Duration Treasury ETF (EDV).
Biotech: The SPDR S&P Biotech ETF (XBI) soared 45% last year, making biotech the only group to crack the top five list for 2014 as well as during the span of the entire bull market. The ETF is chuck full of fast-growing stocks like Foundation Medicine (FMI), which recently sold a majority stake in itself to drug giant Roche (RHHBF).
Chip makers: Last year investors realized PCs, like malls, aren't dead yet. That realization lifted the entire semiconductor industry, including stocks like Intel (INTC), Texas Instruments (TXN) and Micron Technology (MU). All three of those chip makers are owned by the PowerShares Dynamic Semiconductors ETF (PSI), which popped 37% in 2014.