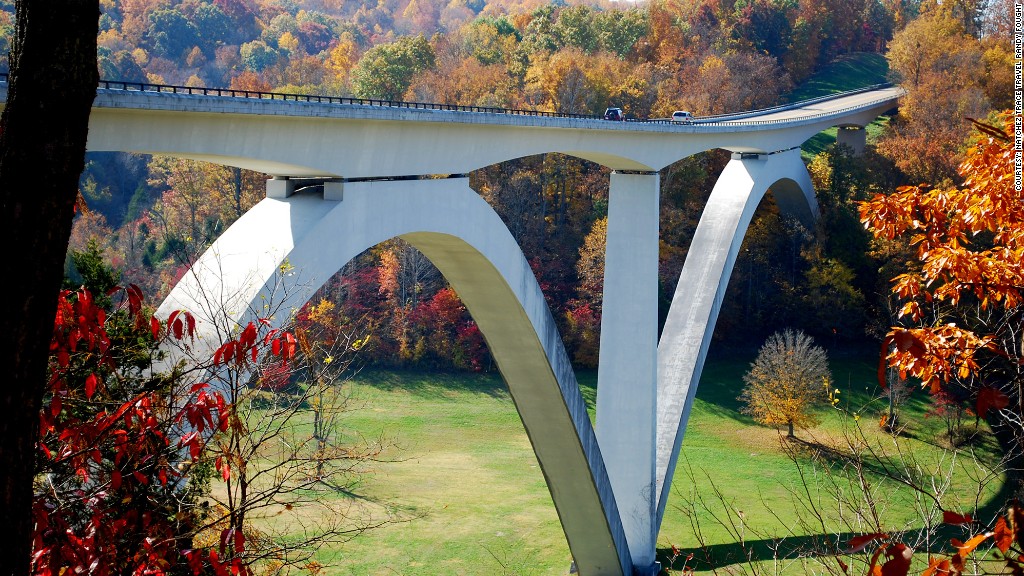 The Natchez Trace Parkway follows the Natchez Trace, an old game trail that runs from southern Mississippi all the way to Nashville, through some of the Old South's most historic communities.
Early 19th century boatmen who took the Ohio River to the Mississippi and south used to sell their cargo and boats in Natchez or New Orleans and walk north back to their homes, according to Randy Fought, who runs the Natchez Trace Travel website. In several places, travelers can get out and walk the old Trace, he said.
Related: 50 states, 50 natural spots
From the Trace, visitors can see antebellum plantations, both in tact and in ruins; live oaks dripping with Spanish moss; Indian mounds; tobacco barns; and old cabins. At milepost 15 is Mount Locust, circa 1780, a preserved inn where boatmen would spend the night.
Driving the parkway is very pleasant since commercial traffic is banned and traffic usually is light. "I've never seen a pothole," said Fought.
The road passes close by several good-size towns, like Jackson and Tupelo, Miss., where there are plenty of places to overnight. Natchez itself is worthy of a stay -- the city has just about 16,000 residents, but boasts 13 National Historic Landmarks and more than 1,000 places on the National Historic Register. That befits the oldest city on the Mississippi.
On the other end of the drive is Nashville, where country music lovers have dozens of clubs, honky-tonks and other live music venues to choose from.
First published May 19, 2015: 11:41 AM ET
Partner Offers
Paid Partner