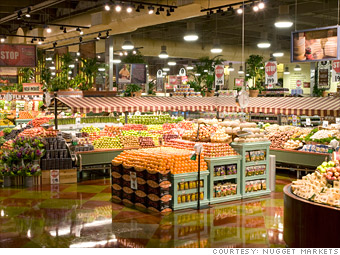 Rank:
34 (Previous rank: 8)
What makes it so great?
Checkers earn an average of $17.71 an hour at this regional market where employees cite the close knit family feel as reason they look forward to going to work. Still, it saw its ranking drop this year driven by a decline in employee survey scores.
Headquarters:
168 Court Street
Woodland, CA 95695
2010 revenue ($ millions):
301
Website:
www.nuggetmarket.com
Network with Nugget Market
Pay
Avg. annual pay*
Most common job (salaried):
Store Director
$108,471
Most common job (hourly):
Checker
$40,333

| Work-life | |
| --- | --- |
| Job sharing program | No |
| Compressed workweek | No |
| Telecommuting | No |

Diversity
% minorities
36%
% women
44%
Has nondiscrimination policy
that includes sexual orientation?
Yes
Offers domestic partner benefits
for same-sex couples?
Yes

| Professional training | |
| --- | --- |
| Salaried employees (hrs./yr.): | 143 |
| Hourly employees (hrs./yr.): | 27 |

From the Feb. 6, 2012 issue