(Fortune Magazine) -- Moments after finishing a rousing speech to thousands of employees on her return to Kraft Foods last June, Irene Rosenfeld walked upstairs from the company's sprawling Northfield, Ill., headquarters cafeteria to the wood-paneled executive suite. There the new CEO discovered that a special passkey was needed for employees to access the floor. Kraft's reenergized staffers literally couldn't follow her into battle.
So in her first official act Rosenfeld unlocked the doors, and in doing so ushered in (she hopes) a new era at a company in dire need of a shakeup. "It was a metaphor for what this company can become - and needs to become," she says.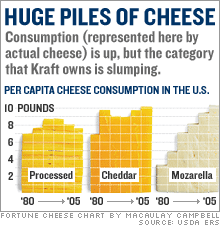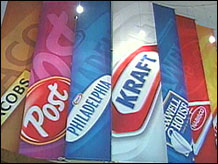 Irene Rosenfeld is now the 'big cheese' at Kraft Foods. Can she breathe new life into a tired brand? (April 15)
Play video

If only it were that easy. Rosenfeld, 53, who spent 22 years at Kraft before leaving to run Frito-Lay in 2004, now has to unlock the potential of a $34 billion behemoth once the envy of the food industry for its profitable stable of beloved brands - Oscar Mayer, Jell-O, Oreo - and a management bench headhunters drooled over.
In 1988, Philip Morris bought Kraft as a hedge against a then-shrinking U.S. tobacco market; it had already acquired General Foods in 1985. When Big Mo (now called Altria (Charts, Fortune 500)) took 16% of Kraft public in 2001 to pay down debt from its acquisition of Nabisco, one analyst titled his report on Kraft "The Juggernaut" and called Kraft's (Charts) stock - which debuted at $31 - a must-have.
As it turns out, investors would have been better off with an interest-bearing checking account. Kraft's stock today trades at its IPO price. The company has been lapped by smaller, nimbler rivals like Kellogg (Charts, Fortune 500), has suffered an embarrassing exodus of top talent, and has seen ballyhooed innovations like Tassimo, a pricey coffeemaker, fall flat. Rising packaging costs and private-label products have eaten at Kraft's profit margins and market share.
"The challenges they face seem gargantuan," says Wendy Liebmann, president of consultancy WSL Strategic Retail. "I'm not sure Jack Welch could turn this company around," adds a longtime industry consultant.
Rosenfeld, a onetime high school basketball player, knows that Kraft, the world's second-largest food company (Nestlé is No. 1), has no fouls left to give. But she is confident her newly independent company - Altria spun Kraft out completely to its shareholders March 30 - is poised to rebound. (A standalone Kraft would have ranked No. 64 on the Fortune 500 this year, just behind rival PepsiCo (Charts, Fortune 500).) Her plan calls for repositioning familiar products like processed-cheese slices into larger, faster-growing markets, while unclogging Kraft's notoriously sclerotic decision-making. The linchpin is fixing cheese, a crucial business for Kraft.
Dubious investors have kept the stock stagnant since the spinoff. "It's still a show-me story," says Steven Kron of Goldman Sachs. Several other Wall Street analysts panned Rosenfeld's plan as lacking in details when she presented it in February. "She's setting herself up to fail," says D.A. Davidson analyst Tim Ramey.
Rosenfeld has made a living by breathing new life into tired brands. Can she do it again? "She's always had that constant turnaround mentality," says her former General Foods boss Jim Kilts, who went on to run Gillette and knows a thing or two about bringing companies back from the brink. "She reminds me of me."
Natural born marketer
Sipping Maxwell House coffee (a Kraft brand, of course) in her spacious office about 20 miles north of Chicago, Irene Rosenfeld recalls her upbringing in suburban Long Island: "We grew up on Kraft mac-and-cheese and Jell-O." She still seems to be that sort of person: unpretentious and direct.
Rosenfeld enjoys getting inside people's heads. "I've always been fascinated by how people think," she says. That fascination led her to major in psychology at Cornell, where she explored the psychology of advertising. After getting a doctorate in marketing and statistics - "which makes it harder for people to snow me with numbers" - she joined the market research department at General Foods in 1981.
One day, Rosenfeld gave a presentation to Jim Kilts about Kool-Aid, which was struggling at the time, since moms were growing hesitant to serve the sugary drink to their kids. Kilts was impressed and eventually asked Rosenfeld to work for him. She later repositioned Kool-Aid as a healthier alternative to Coke and Pepsi, and sales improved. More prominent assignments followed: head of beverages in 1991, then desserts in 1994, where she rejuvenated Jell-O with sugar-free snack cups.
"I've been reframing categories my whole life," she says. In 1996, a year after Philip Morris merged General Foods and Kraft, Rosenfeld took over Kraft's Canadian unit, a role previously held by Kraft's then-CEO Bob Morrison. Heading a microcosm of Kraft's U.S. operations, Rosenfeld grew the business through savvy marketing.
Back in Northfield, Altria had anointed two co-CEOs: Betsy Holden, who had turned around Kraft's pizza business, and international executive Roger Deromedi. That turned out to be a disaster, as lines of responsibility blurred, problems festered, and employees chose sides. (Holden was demoted in late 2003 and left the company in 2005.) The turmoil at the top gummed up the innovation pipeline and also led to bad decisions, like Kraft's refusal to lower cheese prices to compete with supermarket labels.
Then there was the ever present shadow of Altria, which, Kilts says, "added a layer of complexity" to Kraft's already challenging situation. Altria, meanwhile, now wanted to rid itself of non-tobacco holdings but had to resolve major tobacco litigation first. (Spinning off Kraft with big cases pending might have looked like an illegal attempt to hide assets.)
"We had a number of issues, and we were not addressing them," Rosenfeld says. "When I didn't feel I could have the impact I wanted, I made a decision to leave." Snatched up by PepsiCo to head Frito-Lay, Rosenfeld pushed the salty-snacks maker to offer chips made with better-for-you sunflower oil. Kraft, meanwhile, continued to flounder. Altria's board ran out of patience with Deromedi last summer and asked Rosenfeld to return as CEO.