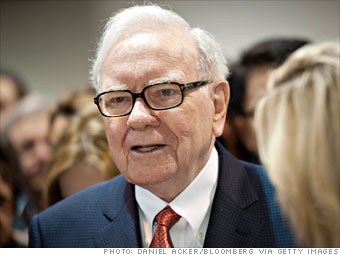 Thanks for liking one of the World's Most Admired Companies.
Now get even more company insights: Like Fortune magazine on Facebook for the latest in-depth business reporting and analysis.
Top 50 rank:
7
Rank in Insurance: Property and Casualty:
1
(Previous rank: 1)
Overall score:
7.34
Ticker:
BRKA
Why it's admired:
Berkshire Hathaway remains one of the most admired companies in the Fortune 500, due to the sage leadership of its CEO Warren Buffett. In a poll, Fortune readers voted Buffett the business person of the year for 2011. Buffett suggested that most likely happened because he's been outspoken about his opinion that America's wealthiest citizens should pay a greater percentage of their income in federal taxes than they currently do.
In this year's annual letter to shareholders, Buffett also outlined his thoughts on why investing in stocks still beats investing in gold and bonds. Berkshire has also begun to welcome some tech companies into the fold. Last November, Berkshire purchased shares in Intel, DirecTV and IBM.
Network with Berkshire Hathaway
Berkshire Hathaway stats

From the March 19, 2012 issue