(Money Magazine) -- Until recently I pretty much ignored the environment. I owned three successive SUVs and drove them without a lot of guilt, ran the dishwasher when it was half empty and rolled my eyes at the suggestion I might want to buy organic.
But I've had a change of heart. First there was the movie, "An Inconvenient Truth," followed by 70 degree temperatures...in New York...in January. Then Deirdre Imus (yes, his wife) appeared on my XM radio show and presented the evidence linking toxins in the environment to autism, asthma, cancer and lower IQs. Finally the amusement park otherwise known as Whole Foods Market came to my neighborhood.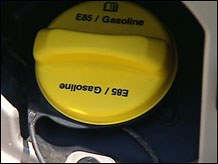 Consumer reporter Greg Hunter takes a look at the benefits of flex fuel. (May 25)
Play video

Whatever the cause of my conversion, it's had an impact: I drive a small wagon, not an SUV; the dishwasher stays off until it's full (unless I've been cooking fish; there are limits); and I even started buying organic milk.
You may have had a similar consciousness-raising of late. But if you're like me, you're not quite ready to grow your own organic food, spend a small fortune on solar panels for the roof or freak out every time one of your kids forgets to turn out a light.
Still, there are a slew of small changes you can make that will have a positive impact on the world around you - and, believe it or not, on your wallet as well.
Unplug
When you leave a microwave, a television or any other appliance with standby power plugged in, it's draining electricity 24/7, explains Crissy Trask, a green-living adviser and author of "It's Easy Being Green."
"Combined those things can consume as much as 10 percent of the electricity in your home," she says. "That's why I suggest grouping things into a power strip by room so that when you go to bed or leave town, you can flip the strip off, cutting power completely." Saving 10 percent on your electric bill could easily put $200 or more a year in your pocket.
Make the switch
One easy, cost-effective swap I've made: replacing standard light bulbs with those squiggly compact fluorescent ones. Yes, they're ugly. But they use up to 75 percent less energy and last up to 10 times longer.
A single $20 six-pack of CFLs will save you some $200 over their lifetime on both energy and replacement bulbs - and each bulb will keep a half-ton of carbon dioxide out of the air.
Avoid the "3,000 mile Caesar salad"
One way to make a big impact on energy and your pocketbook is to keep in mind how far food has to travel before you can buy it.
"I can go to the grocery store in Washington, D.C. year round and get grapes, melon, lettuce from California or Mexico," says Janet Larsen, director of research for the Earth Policy Institute. "But not only am I sacrificing flavor, taste, vitamins and minerals, it takes a lot of energy to get from the farm to my refrigerator." And you'll pay those transport costs.
Get off the bottle
Perhaps you don't like the taste of your local tap water. Or maybe you don't trust it. So install a filter for your drinking water.
A GE SmartWater faucet filter goes for $28, and replacement filters cost $17 every three months. That translates into a mere 18¢ for a gallon of water over a year. A Brita Riviera pitcher filter costs $26, and replacement filters are $9 and are good for two months. Price a gallon: 19¢.
Either way that's a whole lot less than the $1.50 or more a gallon you'll pay for bottled water at the store. Plus, you'll save the barrels of oil that would otherwise be burned up removing water from the ground, bottling it and transporting it from Poland Spring or Fiji to wherever you happen to be. And a lot less plastic will end up in the ocean.
Get online
I love banking and paying bills online because it saves a little money ($5 a month or so on postage) and a whole lot of time (it takes, on average, 15 minutes to pay bills online each month, according to Javelin Strategy and Research - one-eighth what it takes to pay by hand).
These days most major billers will send you statements electronically and let you pay that way. The difference to the environment is potentially huge, explains Rossana Salaris, senior vice president of the Electronic Payments Network. If all U.S. households changed their ways, she says, we could save 18.5 million trees each year and reduce toxins in the air (from paper creation and transport) by some 2.2 billion tons.
Green your cleaning
This is one of Deirdre Imus' biggest bugaboos, and it's the subject of the first book in her "Green This!" series. Interestingly, it was my once-a-week housekeeper who insisted that I start purchasing Greening the Cleaning products. They work better, she says. They are a bit more expensive, but I figure she's the pro.
If you don't want to spend the money, you can use inexpensive white vinegar as a disinfectant, lemon juice as a glass cleaner and, believe it or not, ketchup to clean copper and brass. That's a little too (red and) green for me.
But I have started following Imus' suggestion to have everyone remove his or her shoes at the front door to stop the trail of toxins from crossing the threshold. In the long run, I expect to have a healthier house. In the short run, I know I've got an easier one to maintain since mud stays in the mud room, thus conserving energy - mine.