Stocks that can take a double dip
(Money Magazine) -- Personally, I have no idea whether the economy is headed for a double-dip downturn, as some now predict. And frankly, no one else does either.
Call me a coward, but why even have this debate when there are plenty of stocks you can invest in that will grow and generate tons of cash whether the economy slips into reverse or finds another gear?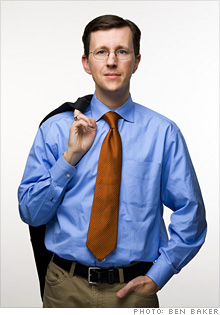 And thanks to all this double-dip talk lately, many of these shares are now on sale. Here are several all-weather stocks that my fellow Morningstar analysts and I like:
Defensive plays
In tough times, investors often rush to health care companies because they don't require a booming economy to generate healthy earnings.
But this group of stocks has fallen on some hard times, what with the dearth of blockbuster new drugs and uncertainties surrounding reform. Ironically, this makes health care an even more intriguing play.
Within this sector, I like Covidien (COV). The company, which makes medical devices, pharmaceuticals, and other health care products, used to be part of Tyco International. Since being spun off, the firm has ramped up its research-and-development budget, focusing on devices to aid minimally invasive procedures, which are expected to replace many traditional (and more expensive) surgeries. Still, the shares trade at a 40% discount to what Morningstar analysts think they are worth.
Economically sensitive businesses
You don't have to hide in defensive areas of the market to find stocks that can protect you if the economy relapses. In fact, you wouldn't want to be too conservative if all this double-dip talk is misguided.
True, a slower economy could bring down energy prices -- and earnings. But the natural gas explorer Range Resources (RRC) is one of the lowest-cost producers in the industry. And even if prices fall 20%, Range can still maintain decent profit margins. Yet the stock is trading at a 50% discount to Morning-star's analysis of its true worth.
Another good option is Exxon Mobil (XOM, Fortune 500), which is hands-down the best capital allocator among the big oil "majors." As energy shares go, this stock may not have as much upside as Range, but Exxon Mobil's vast size and geographic footprint should help it withstand an economic slowdown in any particular region.
As for banks, you might think they'd get killed if the economy heads south again, as business activity slows and defaults rise.
But the weaker the economy stays, the longer interest rates remain low. And when short-term rates are significantly lower than longer-term rates (as is the case today), healthy banks can make tons of money on the difference. J.P. Morgan (JPM, Fortune 500) and Wells Fargo (WFC, Fortune 500) are my favorites, and Wells has pulled back nearly 20% since mid-April.