15 surprises ahead in 2007
Business 2.0's Chris Taylor highlights the most significant innovations, events and launches that are planned for the New Year.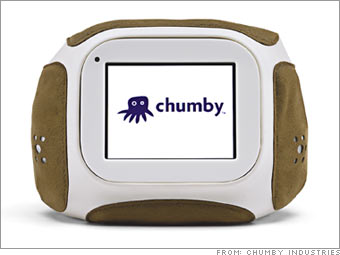 The alarm clock goes open-source
It started out as a simple Internet-connected alarm clock, one you interact with by touching the screen or grabbing its "squeeze sensor." But the Chumby has already become much, much more than that. Among hackers and open-source advocates, it's probably the most anticipated gadget of 2007. That's because Chumby Industries was founded by a group of programmers, including game-console hacker Andrew Huang, who made the gadget eminently easy to develop for. (Call it the first Web 2.0 device.) So when the $150 coconut-size Chumby launches in the spring, with free service, it'll have an array of downloadable, hacker-created widgets. You can wake up with Google News and the latest photos from your friends' Flickr accounts or use Chumby as a remote control for your TV and MP3s. All this in an interface so squeezably simple that a 2-year-old can use it.

Here's the stuff these top execs would like to see in their stocking. (
more
)

Is it time to cash in? Or to double down before the next boom? The smart money says both. Here are smart strategies for today's turbulent market. (
more
)

Meet the executives, entrepreneurs, and cutting-edge innovators who are setting today's business agenda. (
more
)