NEW YORK (CNNMoney.com) -- Generic drugmakers, fresh off a profitable and product-heavy year, will seek future growth in fast-growing markets outside the U.S. and the burgeoning expiration of biotechnology patents, according to analysts.
The generic industry is fueled by Big Pharma's blockbuster drugs, which have been losing exclusivity at unprecedented rates. Some $16 billion worth of annual drug sales are expected to go off-patent in 2007, according to the drug market research firm IMS Health. But 2007 is actually a down year, following $23 billion worth of patent expirations in 2006.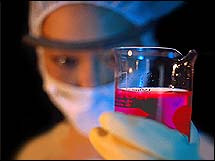 "In 2007, there will likely be fewer exclusive (generic) launches than last year, which poses a significant challenge for generic companies," wrote William Sawyer, analyst for Leerink Swann & Co., in a published note.
Generic drugmakers produce and sell drugs after patents expire. Generic drugs are most profitable in the six months following patent expiration, when the price only drops by about 40 percent because there is only one generic drugmaker producing it.
Generic companies fight over this six-month window of exclusivity, because the price drops another 40 percent when it runs out, cutting into profits.
"These exclusivity periods remain the most profitable windows for generic launches and have become increasingly important as generic players compete fiercely for share at market formation," wrote Sawyer.
Teva Pharmaceuticals (up $0.31 to $35.22, Charts), the biggest generic drugmaker in the world, established itself as the king of generic exclusivity last year when it successfully gained control of the biggest blockbusters to go generic: Zocor, an anti-cholesterol drug from Merck (up $0.07 to $43.99, Charts), Pravachol, an anti-cholesterol drug from Bristol-Myers Squibb, and Zoloft, an antidepressant from Pfizer (up $0.01 to $26.45, Charts). These blockbusters provided rich, albeit temporary, fodder for Teva's earnings.
Teva's earnings got an extra lift from the Medicare D "donut hole," according to Andrew Forman, analyst for WR Hambrecht. In the hole, Medicare recipients exceeded their annual limit for prescription drug coverage and had to pay out-of-pocket, causing them to turn to low-cost generics.
Jerusalem-based Teva announces earnings Tuesday, and analysts are expecting a 48 percent surge in sales and an earnings increase of 25 percent for 2006, according to Thomson Financial.
Despite this enviable performance, Teva stock suffered last year, falling 25 percent. Investors may have jettisoned the stock because they anticipated the 2007 slump in patent expirations and its inevitable impact on earnings.
"The reason for this paradox was that the market, forward-looking, realized that the earnings in 2007 probably weren't going to grow at all, following the spectacular year," said Forman.
Teva's sales are expected to rise a much tamer 8 percent this year, with earnings down 6 percent, according to Thomson Financial.
But the company is expected to recover about half its lost value - analysts interviewed by Thomson Financial forecast a 13 percent increase in stock price over the next 12 months.
Barr Pharmaceuticals (down $0.35 to $53.40, Charts), also a leading maker of generic drugs, faces a similar phenomenon. The stock price of the Woodcliff Lake, N.J.-based company fell 16 percent in 2006. Nonetheless, sales surged 30 percent that year and earnings edged up 3 percent, according to estimates from Thomson Financial.
International players
Analysts are bullish on these companies going forward, primarily because they are international players that don't rely strictly on earnings from the U.S. market. The fastest-growing markets for generic drugs are overseas.
"Teva, on the generic side of their business, is likely going to have a more difficult year in their U.S. operations," said Ken Cacciatore, analyst for Cowen and Co. "The largest key [to success] is how well their international operations perform."
Drug sales are expected to grow more than 10 percent in 2007 in China, India, Brazil and Turkey, compared to 5 to 6 percent in U.S., according to IMS Health, which attributes the growth to expanding economies and broader access to medicine.
"Growth in China will be 15-16 percent and the market size will reach $15-16 billion in 2007," said IMS in a report late last year. "Generally, locally manufactured generics dominate these markets."
"Teva's growth increasingly is going to be in these emerging markets, including Latin America, Russia and Eastern Europe, whose economies are growing twice as fast as the U.S. and three times as fast as Western Europe," said Hambrecht's Forman, noting that Teva has a market presence in 80 countries.
Forman said he was bearish on generic drugmakers that have most of their market presence in the highly competitive U.S., such as Watson Pharmaceuticals Inc., (up $0.05 to $28.26, Charts) based in Corona, Calif., and Pittsburgh-based Mylan Laboratories Inc. (down $0.03 to $22.37, Charts)
One word: Biogenerics
Barr also has an eye on the future in biogenerics, or generic versions of biotech drugs.
Biotechnology, a method of drug development that uses living organisms, was established in the 1970s with the debut of Genentech, the world's second-largest biotech in terms of sales behind Amgen. Biotech drugs have been in existence long enough for the patents to run out on some of the industry's older products.
But the FDA does not have the regulatory process necessary for the creation of biogenerics, meaning that biotechs in the U.S. do not have to compete against low-cost generics.
However, Rep. Henry Waxman, D-Calif., is trying to change that. Waxman became one of the most important figures in the drug industry in 1984, when he and Sen. Orrin Hatch, R-Utah, drafted the Hatch-Waxman bill that created the regulatory process for generic drugs in the U.S.
A staffer for Waxman said he plans to submit a bill in the next few weeks to lay the foundations for the biogenerics industry in the U.S. This is on top of another biogenerics regulatory bill that Waxman filed last year with Sens. Charles Schumer and Hillary Clinton, both Democrats from New York.
While biogenerics hasn't gotten off the ground in the U.S., it's up and running in China and Eastern Europe, where companies produce generic versions of biotech drugs. In 2006, Barr bought the Croatian company Pliva, the biggest drugmaker in Eastern Europe and a pioneer in the emerging but risky field.
Sawyer of Leerink Swann said in a published note that Teva and Barr are the "best positioned to benefit from the biogeneric opportunity" because of their involvement in the multinational markets, though the potential benefits from the U.S. market are four or five years away.
"My view is that by 2010 you'll see biogenerics in the U.S.," said Forman. "The U.S. will be the last country in the world to have biogenerics."
The analysts interviewed for this story do not own shares of company stocks mentioned here, but WR Hambrecht makes a market in Teva.