Message to Obama: Send loans fast
What can Washington do to help small business owners save jobs and keep spending? Exactly what the president-elect promised during the campaign.
Photos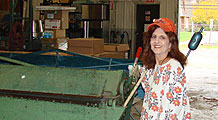 (CNNMoney.com) -- What could jump-start the economy? Affordable loans for small business.
With bank lending almost frozen and consumer spending down sharply, entrepreneurs foresee a Main Street wipeout if Washington doesn't take action soon to shore up the nation's small businesses.
"It's killing us right now. We can't expand, we can't buy inventory; we've had to do everything on credit cards because the banks won't even look at us," said Amy Rhodes, owner of A-2-Z Scuba in Puyallup, Wash. "Every single dime of our $40,000 in profit last year we sunk right back into the business. Now sales are down, and we're making ends meet out of our own money - which makes it more difficult to pay our mortgage."
In a mid-October campaign appearance, then-candidate Barack Obama proposed a "small business rescue plan" to address entrepreneurs' need for working capital. "A credit crunch has dried up capital and put these jobs at risk," Obama said at the time. "If we don't act, we'll be looking at scaled-back operations, shuttered shops, and laid-off workers."
The situation has since grown grimmer. The Federal Reserve's recent Senior Loan Officer Opinion Survey found that 75% of the banks surveyed had tightened their lending standards for small-business loans. For the first time in six years, payroll giant ADP reported a net loss of jobs among small companies; its monthly index estimated 25,000 positions were shed in October. And a survey conducted by American Express Open last month found that 18% of small business owners polled say they could be out of business in six months -- twice the August prediction.
So what should the government do? Exactly what Obama pledged, small business owners say: Persuade banks to start lending, or start cutting loan checks directly from the government.
In October, Obama proposed temporarily suspending the fees the Small Business Administration changes for participation in its flagship loan-guarantee programs, which insure banks against losses on a portion of the money they lend to qualifying small businesses. But he also suggested making direct loans available through the SBA's Disaster Loan Program, which traditionally assists natural-disaster victims.
"I would prefer direct lending from the government, if they could pull that off," said Rob McNaughton, owner of online fashion retailer Rob Diamond in Denver. "I feel like the banks don't like to do SBA loans. It's a lot of paperwork.
The SBA's 7(a) loan-guarantee program backed 30% fewer loans in 2008 than it did in 2007, and fewer banks are making those loans. SBA watchers attribute the decline to the growing expense of complying with SBA requirements and subtle changes to the program's mission.
"The root of the problem is that the SBA has raised its credit standards over the past decade," said Joel Pruis, director of advisory services for Baker Hill, a financial-services consultancy. "The differential between what's acceptable without the SBA guarantee and what's acceptable with it has narrowed significantly. We've got very few loans now that fit in that gap. Then, the operating costs related to the program are burdensome - small banks often have to hire a full-time employee that knows the SBA. It's not a program you can dabble in; you either have to get all-in or not do it at all."
'A domino chain'
That leaves entrepreneurs scrambling to find cash in a hostile lending climate. When Amy Rhodes opened her scuba gear retail store, the banks she approached didn't want to offer a business loan until she had cash flow.
So she turned to credit cards to get started, figuring she would refinance later into a commercial loan. But when she approached banks, cash-flow statements in hand, she was denied for having too little collateral and for having a credit score below 650 - a score that dropped because she had borrowed on her credit cards because she couldn't get a traditional loan. The Catch-22 situation has left her strapped for cash and unable to grow. Rhodes would like to lease a retail space available next door and expand her store, but she can't get the financing to do it.
Fashion e-tailer McNaughton has laid off his staff, taken a full-time day job and cut back inventory to reduce his storage costs, but he's still not sure his business will survive. Sales on his three-year-old Web site dropped off sharply in March. Then both Bank of America (BAC, Fortune 500) and American Express (AXP, Fortune 500) reduced his credit lines. With the holidays, his biggest sales period of the year, approaching fast, McNaughton needs financing to buy inventory.
"I have a solid business with proven results," he said. "I had a couple of really great years. This is a slow one, but it's not the end of the world, and I'm a hard worker. Right now, I'm working two jobs. I really do believe it's the small businesses that the government needs to help."
Many owners expect the hard times to get even harder. "It's going to get worse - layoffs are coming through. It's like one in four people that you're talking to are laid off or think they're going to be laid off," said Deborah McQueen, owner of performing arts center SmArtsUnlimited in Livermore, Calif.
McQueen has borrowed against receivables to finance the business. A $30,000 business loan would stabilize her company, but she's had no luck at the banks or the SBA, and her credit-card lines are getting tighter.
"Obama has a great opportunity," she said. "One of the fastest ways to fix this economy is to generate small business loans. If we had the money that we needed right now, I would be calling the local cable stations to get my ad ready for Christmas. It generates spending on a grassroots level."
In Burlingame, Calif., American Bridal owner Shirley Tan says she feels like she's watching a domino chain collapsing.
Sales at her 11-year-old online wedding-goods retailer were humming along until two months ago, when customer spending abruptly slowed. Tan has some savings to sustain the business through a down period, but she's been shot down for loans and credit lines to stretch out that cushion. Tan has cut her staff of 32 down to 24 people and shaved off hours, but she's running out of room to cut.
"People who have been in business for a while, who have a proven business history, could really use some kind of FEMA-type help," she said. "Right now, the question is, can you ride out the wave of the economic downturn? I think a lot of small businesses are not going to be able to do that. That's the sad part. Do we have to be General Motors to get some attention?"

To write a note to the editor about this article,
click here
.



My dream is to launch my own business someday. Now that it's time to choose a major, I'm debating if I should major in entrepreneurial studies or major in engineering to acquire a set of skills first. Is majoring in entrepreneurship a good choice?
More
- Spate, Orange, Calif.

More Small Business

Next Little Thing 2010