Dow: Triple-digit rally after rout
Wall Street advances as the Dow and S&P 500 bounce off the previous session's nearly 12-year lows.
Photos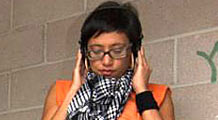 NEW YORK (CNNMoney.com) -- Stocks bounced Tuesday, a day after falling to nearly 12-year lows, after comments from Fed Chairman Ben Bernanke that downplayed bank takeover fears helped to spark a big rally.
The Dow Jones industrial average (INDU) gained 236 points, or 3.3%, its best day on a point basis in over a month. The Dow ended Tuesday's session at the lowest point since May 7, 1997.
The S&P 500 (SPX) index rose almost 30 points, or 4%, after ending the previous session at the lowest point since April 11, 1997.
The Nasdaq composite (COMP) added 54 points, or 3.9%, after ending the previous session at a 3-month low. The Nasdaq has held up better than the broader market this year.
Gains covered a variety of sectors, with banks, housing, retail, technology and energy all among the big gainers.
Stocks tumbled Monday, and for the last few weeks, on worries that not even the many government stimulus programs and aid packages will be sufficient to slow the recession. The declines left the Dow and S&P 500 at almost 12-year lows.
"The market lost around 10% in two weeks, which is a very quick plunge, so it's not a surprise to see an oversold bounce," said Richard Sparks, senior equities analyst at Schaeffer's Investment Research.
However, Sparks said that comments from Ben Bernanke were helping to sustain Tuesday's advance, after the Federal Reserve Chairman sought to downplay fears that the government was considering taking over struggling banks.
Investors have been very nervous that banks will have to be nationalized, or that they will have to file for bankruptcy protection, as both options would wipe out all shareholder value.
In light of these fears, investors were responding well to Bernanke's assertion that the banks have a "franchise value" that would be hurt by nationalization, Sparks said.
Investors seemed to set aside the rest of the Fed chair's more dour congressional testimony, including his assertion that the recovery will take more than two or three years. Bernanke spoke before the Senate Banking Committee as part of his two-day semi-annual testimony on Capitol Hill. On Wednesday, he will address the House Financial Services Committee.
President Obama will address both chambers of Congress Tuesday night, discussing the economy, the $787 billion stimulus package and his goal to cut the deficit in half by the end of his first term. The speech is due to start at 9 p.m. ET. (Full story).
Trading Wednesday will likely take a cue from what the President says. In addition, investors will focus on the January existing-home sales report, due shortly after the market open. Sales are expected to have risen to a 4.79 million unit rate according to a consensus of economists surveyed by Briefing.com, from a 4.74 million unit rate in December.
Bear-market rally: Looking out further, there is nothing to suggest a longer-term rally is brewing, said Kenny Landgraf, principal and founder at Kenjol Capital Management.
"What the market has to look forward to right now is a longer recession, weaker earnings and a paralyzed banking system."
Stocks experienced so-called bear market rallies after the market set a short-term bottom in October and again in November. Between the November bottom and early January, the S&P 500 rallied over 20% on hopes that the new administration's programs would speed up the ending of the recession.
Schaeffer's Sparks said that stocks could again advance 15% or 20% off Monday's lows, before giving the gains back again.
Economy: The S&P Case-Shiller National Home Price index plunged 18.2% in the fourth quarter versus a year ago, the biggest quarterly drop in the index's 21-year history. A monthly measure of 20 major metropolitan areas fell 18.55% in December versus a year ago, also a record.
The Conference Board's February Consumer Confidence index plunged to an all-time low, falling to 25 in the month from a revised 37.4 in January. The reading is the lowest since the Conference Board began tracking the index in 1967.
Company news: Home Depot (HD, Fortune 500) reported weaker quarterly earnings that beat estimates, providing reassurance that some retailers are weathering the recession. But the home improvement retailer also said it plans to open fewer new stores in 2009 and that profit will fall for the third straight year due to the housing market collapse and the recession. Shares gained 10.5%.
Target (TGT, Fortune 500) reported weaker quarterly earnings that missed analysts' expectations. The retailer has suffered amid the economic downturn, with customers buying staples like food and cleaning supplies and eschewing pricier items like clothing and home decor. Shares fell 2%.
JPMorgan Chase (JPM, Fortune 500) said late Monday that it's cutting its dividend by 87% to 5 cents per share, a move that it says will save it $5 billion a year. Shares gained 7.7% Tuesday.
Financial stocks were among the session's big gainers, led by Bank of America (BAC, Fortune 500) and Citigroup (C, Fortune 500), which both gained around 21%.
Citigroup (C, Fortune 500) stock has been rising on reports that it will soon announce a deal with Treasury that would give the government a 40% stake in the bank. The Financial Times said Tuesday that a deal could be announced as soon as Wednesday.
Automakers GM (GM, Fortune 500) and Ford Motor (F, Fortune 500) surged, as did large tech stocks Intel (INTC, Fortune 500), Google (GOOG, Fortune 500), Cisco Systems (CSCO, Fortune 500) and Advanced Micro Devices (AMD, Fortune 500).
Market breadth was positive. On the New York Stock Exchange, winners beat losers by over five to one on volume of 1.84 billion shares. On the Nasdaq, advancers topped decliners by almost three to one on volume of 2.40 billion shares.
Bonds: Treasury prices slipped, raising the yield on the benchmark 10-year note to 2.76% from 2.75% Monday. Treasury prices and yields move in opposite directions.
Other markets: In global trading, Asian and European markets ended lower.
In currency trading, the dollar fell versus the euro and gained against the yen.
U.S. light crude oil for April delivery rose $1.52 to settle at $39.96 a barrel on the New York Mercantile Exchange.
COMEX gold for April delivery fell $24.50 to settle at $970.50 an ounce.

Features

These Fortune 100 employers have at least 350 openings each. What are they looking for in a new hire? More

It would be the world's second-biggest economy. See how big companies' sales stack up against GDP over the past decade. More