New loans for car dealers - but will they help?
The Small Business Administration is temporarily expanding its definition of 'small' to make more loans available to auto dealers, but potential borrowers face many obstacles.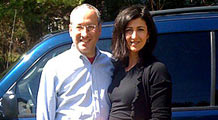 From a 1997 Mercury Cougar to a 2009 Honda Pilot, 8 readers tell us why they decided to buy a new car or keep their old wheels.
Photos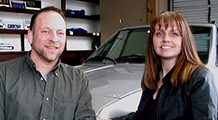 NEW YORK (CNNMoney.com) -- Starting early next week, larger businesses will temporarily be eligible to apply for loans backed by the Small Business Administration, a move aimed at getting help to besieged auto dealers and industry suppliers.
Through September 2010, the SBA will raise the size standard of what counts as a "small" business, allowing slightly bigger companies to participate in its flagship 7(a) lending program. Typically, auto dealers haven't qualified for the program because most have annual sales in excess of $29 million, the SBA's cap for that industry. But from now through the end of the 2010 fiscal year, the SBA will disregard the revenue cap and use other criteria for eligibility. Companies with less than $3 million in annual income and a net worth of less than $8.5 million will qualify for the loans.
Though this new criteria is aimed at auto dealerships, the SBA anticipates that more than 70,000 small businesses nationwide from a variety of industries will now qualify for its 7(a) loans.
But it's not clear whether the new eligibility rules will actually make significant new financing available for auto businesses in need. There are a few hitches.
First, auto dealerships typically rely for their financing needs on automotive financing entities such as Ford Motor Credit Corporation, General Motors Acceptance Corporation (GMAC) and Chrysler Financial. None of the major automotive financiers are currently on the list of lenders certified by the SBA to make agency-backed loans.
Also, the most common type of loan an auto dealership takes out is what's known as "floorplan" financing, which allows the dealer to borrow money to buy vehicles from a manufacturer and repay the loan as the cars sell. The SBA's 7(a) loans are strictly for working capital and can't be used for vehicle inventory financing. The National Automobile Dealers Association is lobbying President Obama's administration to lift that constraint.
Finally, any 7(a) applicant still has to persuade a lender to actually make the loan - and right now, few banks want to take the risk of lending to a struggling business. The SBA's 7(a) program backed only half as many loans in the first three months of 2009 as it did a year earlier.
Auto dealerships are also fighting against deeper challenges that access to business loans won't solve. Nationally, the United States lost about 900 car dealerships last year, according the National Automobile Dealers Association.
"The two biggest obstacles we currently face have nothing to do with our own financing, but rather, our marginal-credit customers' ability to obtain financing, and even more importantly, our good-credit customers' willingness to buy new GM vehicles," says Eric Lash, owner of Lash Chevrolet in Johnstown, Ohio. Lash Chevrolet has a staff of 25 and typically sells 50 to 100 cars a month.
Lash hadn't heard about the SBA's new loan availability, but he doesn't think it would help his business much.
"Many [dealers] are not making ends meet, and the best way to solve that is to sell more cars. To sell more cars, we need customer confidence and the ability to get those customers financed," he says. "All of the SBA loans they can give will not help me or any other dealer overcome the obstacles we deal with every day."

To write a note to the editor about this article,
click here
.