Chrysler deal moves a step closer
Wall Street lenders opposed to U.S. plan to reorganize carmaker throw in towel. Control of company by UAW and Fiat looking more likely.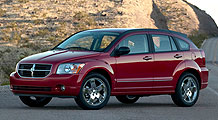 Chrysler was king of the hill with its 300 series just a few years ago. Oh how the mighty have fallen.
NEW YORK (CNNMoney.com) -- The reorganization of troubled automaker Chrysler LLC moved a step closer Friday when opposition by lenders opposed to the deal collapsed.
A group of lenders that between them are owed about $295 million disbanded, an attorney for the group said.
"It got to the point where it was the collective decision that there was insufficient critical mass to make this fight," said Glenn Kurtz of White & Case, who had appeared in court on behalf of the group of lenders opposed to the restructuring.
The development increased the chances that the company will be able to win quick bankruptcy court approval for its plan to form a new company controlled by Italian automaker Fiat and the United Auto Workers union.
The decision to disband came after two of the group's leading members, Wall Street firm OppenheimerFunds Inc. and private equity firm Stairway Capital, announced they had dropped their opposition. Oppenheimer is owed about $100 million.
Oppenheimer signaled that it believed it was unlikely the court fight against the Obama administration's deal to restructure Chrysler would succeed.
"OppenheimerFunds has determined that the senior creditors can no longer reasonably expect to increase the recovery rate on the debt they hold by opposing the [government's] restructuring plan," Oppenheimer said in a statement. Oppenheimer Funds is a unit of Massachusetts Mutual Life Insurance.
Stairway Capital Management, a firm that specializes in turning around distressed companies, repeated the arguments of the group's members that they should not have been forced to accept less than a third of what they were owed.
"We remain steadfast in our view that there should be significantly more value attained, given a normal course bankruptcy negotiation," Stairway said in a statement. "The fact simply is, however, our group has become too small to have a voice within the bankruptcy."
Experts say the move advances the restructuring cause but cautioned that the bankruptcy process has to still play out.
"If they're not arguing the case, it's hard to see who's going to carry that banner," said Jeffrey Manning, managing director at investment firm Trenwith Securities LLP and specialist in bankruptcy.
However, Manning cautioned that the restructuring could still be tripped up by Chrysler's negotiations with Fiat.
In addition, Chrysler dealers plan to fight the reorganization plans since many will lose their long-time franchises as part of Chrysler's cost-cutting efforts. State franchise laws protecting dealers in such circumstances have yet to be tested in bankruptcy court since Chrysler is the first automaker to declare bankruptcy since the 1930s.
Hoping for quick turn in court
Under the Treasury Department-led reorganization, the UAW would get 55% of the equity in a reorganized Chrysler to cover money it is owed for retiree health care costs. Fiat would get a stake of up to 35% as part of an alliance to bring its vehicles to the U.S. market. The U.S. and Canadian governments would get a 10% stake in return for loans that would not be repaid.
Chrysler hopes to conclude the reorganization within 30 to 60 days of its April 30 filing. The carmaker hopes to sell useful plants and other assets to a new company controlled by Fiat and the UAW, and give up its old liabilities, including the loans and some plants and dealerships.
Chrysler owes $6.9 billion to major banks, hedge funds and other Wall Street firms. The loans are backed by company assets such as land, plants and equipment. The company and Treasury have proposed that those lenders agree to accept $2.25 billion to settle those loans.
Major banks, such as JPMorgan Chase (JPM, Fortune 500) and Citigroup (C, Fortune 500), and Wall Street firms Morgan Stanley (MS, Fortune 500) and Goldman Sachs (GS, Fortune 500), which have received their own federal bailouts, have agreed to the debt reduction.
The bankruptcy filing was forced when many of the other lenders that have not received help from the Troubled Asset Relief Program, or TARP, refused to accept the deal. The non-TARP lenders -- some of whom signed onto the deal before the bankruptcy -- are owed about $2 billion. But when lenders owed about $1 billion between them rejected Treasury's offer, it forced Chrysler into bankruptcy.
The dissident creditors argued in court that non-secured lenders such as the UAW should not be treated better than lenders that had made secured loans.
Kurtz said that only some of the lenders were willing to make the fight once U.S. Bankruptcy Court Judge Arthur Gonzalez ruled that the names of the lenders fighting the plan must be made public. Those who would not join the group if it meant public disclosure are owed about $700 million between them.
A spokesman for Chrysler said the company had no comment due to the ongoing bankruptcy process.

Features

These Fortune 100 employers have at least 350 openings each. What are they looking for in a new hire? More

It would be the world's second-biggest economy. See how big companies' sales stack up against GDP over the past decade. More