There goes another $30 billion
With GM set to receive another round of federal financing in its bankruptcy, the auto bailout is quickly becoming one the largest aspects of the TARP program.
Bailout tracker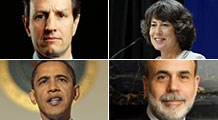 The government is engaged in a far-reaching - and expensive - effort to rescue the economy. Here's how you can keep tabs on the bailouts.
More
NEW YORK (CNNMoney.com) -- With another $30 billion in taxpayer bailout money set to go to General Motors -- for a total of $50 billion -- the bankrupt automaker will become the second-largest bailout recipient after AIG.
That brings the total auto-industry rescue to $85 billion and marks a major shift in how the government has decided to invest the $700 billion of TARP money.
TARP, for Troubled Asset Relief Program, was signed into law last fall with the aim of buying up bad mortgage assets from banks. But just 14% of TARP money ($100 billion) has been committed to toxic assets through the Public-Private Investment Program (PPIP).
The largest TARP initiative has sent nearly $200 billion to banks to shore up their capital.
The rest has gone to emergency bailouts of Citigroup (C, Fortune 500) and Bank of America (BAC, Fortune 500) ($20 billion each), consumer and business lending ($70 billion) and preventing foreclosures ($50 billion).
More TARP money has already gone to auto companies and auto parts suppliers than has been spent on any of those programs.
"Initially the autos had $30 billion budgeted for them, but with the government still injecting money in them, we're probably going to get to $100 billion," said Dan Clifton, head of policy research Strategas Research Partners. "It was never supposed to be like this."
The breakdown of the auto-industry rescue: On top of GM's $49.8 billion, Chrysler, which is also in bankruptcy, has received $15.5 billion in bailout assistance. Ford (F, Fortune 500) is the lone American automaker in the former "Big Three" that has not asked for any federal funding.
In addition, $1.5 billion of TARP money has gone to Chrysler Financial, the defunct finance company for Chrysler. GMAC, the current lending arm for GM and Chrysler has gotten $13.5 billion in bailout funds. The lender recently took over Chrysler Financial's lending business, but a government stress test revealed GMAC did not have enough capital to withstand a worsening economy.
Auto suppliers for GM and Chrysler, which have been rocked by the automakers' slumping sales, have also received TARP funds totaling $5 billion, including $3.5 billion for GM Supplier Receivables and $1.5 billion for Chrysler Receivables.
The Obama administration's New Warrantee Commitment Program will also likely be taken out of TARP, though Treasury has not yet funded the program. The program will backstop all warranties issued on new GM or Chrysler vehicles during the period in which the government is overseeing the companies' restructuring.
Banks could get less: The auto industry is quickly taking a larger and larger chunk of TARP -- $22.6 billion of about $24 billion in total TARP funding in May when to auto-related companies.
As the auto bailout grows more expensive, Treasury is quickly running out of TARP funds.
Less than $80 billion of the $700 billion program remains unallocated, leaving little to continue funding autos, new initiatives and emergency programs. As a result, some experts think that Treasury will have to scale back some of its bank initiatives, including its not-yet-started PPIP.
"If the stress tests were correct, and banks are, in fact, going to be okay, many in Congress will ask why we're providing them with another $100 billion," Clifton said. "That program may be scaled back, or it may not happen at all, as autos quickly become the story."
Clifton believes that Treasury will act in the next few weeks to reduce the scale of its lending programs to free up more funding for autos.
Treasury did not immediately return requests for comment.

Features

These Fortune 100 employers have at least 350 openings each. What are they looking for in a new hire? More

It would be the world's second-biggest economy. See how big companies' sales stack up against GDP over the past decade. More