Chrysler restarts with the Viper
The factory that makes the Dodge Viper sports car is the first to reopen after bankruptcy.
Photos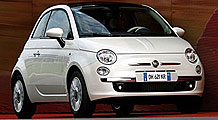 Find your next Car

NEW YORK (CNNMoney.com) -- Chrysler will soon be making cars again.
Chrysler Group announced Monday that it is restarting a factory, after shutting down all of its manufacturing for nearly seven weeks following the bankruptcy of Chrysler LLC. Chrysler Group is the new company that emerged last week with most of Chrysler's assets and a new ownership structure.
The first plant to reopen is the one that makes the Dodge Viper sports car.
The Viper has a 600 horsepower V-10 engine and a price tag that starts at about $90,000. The Viper was introduced in the 1992 model year, and only 25,000 have been sold since then.
The Conner Avenue Assembly Plant in Detroit that makes the car employs 115 people.
Chrysler LLC had announced last year that it intended to sell off the Viper brand. The high-performance, 10-cylinder sports car sells in low numbers. Ultimately, Chrysler said it had not received any bids that met its requirements.

Chrysler's other plants remain idle.
"At this time, we cannot give exact timing in regards to the start of production at our other manufacturing facilities," Chrysler Group said in a statement.
The Viper brand and the plant that makes the car, the Conner Avenue assembly plant in Detroit, were taken over by the "new" Chrysler that emerged last week from bankruptcy.
The Chrysler Group is owned by a combination of the Italian automaker Fiat, the United States government, the United Auto Workers union's retiree trust and the Canadian and Ontario governments.

Features

These Fortune 100 employers have at least 350 openings each. What are they looking for in a new hire? More

It would be the world's second-biggest economy. See how big companies' sales stack up against GDP over the past decade. More