Chrysler and Fiat make it official
Fiat CEO Sergio Marchionne becomes Chrysler chief under new owners, including Italian automaker, the UAW and the U.S. and Canadian governments.
Photos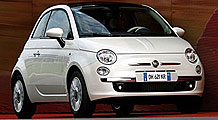 NEW YORK (CNNMoney.com) -- Chrysler and Italian automaker Fiat on Wednesday officially signed a strategic alliance brokered by the U.S. government, one day after the Supreme Court cleared the path for the deal.
Fiat will initially take a 20% stake in the company; its share can go up to 35% if it reaches certain fuel-efficiency goals.
"This is a very significant day ... for the global automotive industry as a whole," said Sergio Marchionne, Fiat's chief executive who was named the CEO of Chrysler on Wednesday. "From the very beginning, we have been adamant that this alliance must be a constructive and important step towards solving the problems impacting our industry."
Fiat spokesman Gualberto Ranieri said Marchionne will retain the title of CEO of both Chrysler and Fiat. Former Vice Chairman Jim Press was promoted to deputy CEO and special advisor; he will be the point man for Chrysler's restructuring.
The new Chrysler: The deal established a new company, called Chrysler Group LLC, after the former Chrysler LLC sold nearly all of its assets to the new firm.
Chrysler Group is 55% owned by the United Auto Workers union. The U.S. government holds an 8% stake and Canada a 2% share. Fiat will not be allowed to take a majority stake until the new Chrysler pays back the $22.1 billion lent to it from the Treasury Department, including Wednesday's $6.6 billion wire transfer.
Chrysler's new board will consist of three Fiat directors, four representing the U.S. government, one from the UAW and one from the Canadian government. The company said it expects to name former Borden Chemical and Duracell chief executive as its chairman.
Marchionne said the Chrysler plants that had been shuttered as a result of the company's bankruptcy process will be back up and running "soon," and the company will focus on developing fuel-efficient vehicles that will "become Chrysler's hallmark going forward."
Jeremy Anwyl, CEO of Edmunds.com, said it will take 18 months to two years for Chrysler to begin unveiling smaller cars that have helped Fiat grow in Europe. Even after the Fiat integration is complete, Chrysler's future path is uncertain.
"Much of Chrysler's future success will depend on fuel prices and Americans' appetite for small cars," said Anwyl. "But Chrysler has an opportunity to look for niches that have been under-explored, as they did in the past with the PT Cruiser and minivan market."
Not out of bankruptcy yet: Chrysler filed for bankruptcy on April 30, and the Obama administration hoped the process would take less than 60 days to complete. Though Chrysler sold its assets to Chrysler Group LLC, the old Chrysler will likely remain in bankruptcy for quite some time as it resolves its debts and liabilities.
"This is by no means the end of Chrysler's bankruptcy case," said Ed Neiger, founder of Neiger LLP, a creditors' rights and bankruptcy law firm. "So many issues still need to be resolved, which may take months or even years."
The U.S. Supreme Court on Tuesday cleared the way for the deal after delaying the sale pending review of a case brought by Indiana state pension funds challenging Chrysler's bankruptcy. Those funds argued that they and other lenders deserved better treatment by the bankruptcy court.
Has the recession actually helped you? From lower debt payments to cheaper home prices, many people have benefited from the current downturn. If you've made out financially and want to share your story, please email steve.hargreaves@turner.com.

Features

These Fortune 100 employers have at least 350 openings each. What are they looking for in a new hire? More

It would be the world's second-biggest economy. See how big companies' sales stack up against GDP over the past decade. More