Detroit joblessness worst among big cities
Metro area unemployment rate hits 14.9% in May, even before General Motors' bankruptcy is taken into account.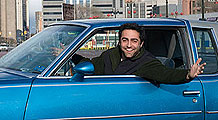 Detroit residents often are asked why they stay. 13 locals answer that question - and reveal their favorite treasures of the Motor City.
NEW YORK (CNNMoney.com) -- The unemployment crisis is a nationwide concern, but the collapse of the auto industry has made joblessness in Detroit particularly painful.
A U.S. government report released Tuesday shows the Detroit metro area continued to have the highest unemployment rate of large cities, at 14.9%, in May.
That's before General Motors (GMGMQ) declared bankruptcy June 1, meaning future reports could be even worse for the Motor City.
The Bureau of Labor Statistics report groups cities into metropolitan areas, lagging national unemployment statistics which this month showed the jobless rate rose to a fresh 26-year high of 9.4% in May. A new nationwide report for June comes out Thursday.
"Things in Detroit are just bad, much like the national economy," said Rick Waclawek, a director at the Michigan Department of Labor and Growth. "It all ties back to whether people have spending money or loans available, and right now that's tough."
GM and Chrysler closed some plants and executed some layoffs before their official bankruptcies, Waclawek said, so "a significant number of those people" are already included in this and previous reports.
Waclawek declined to speculate on future trends, but "it's too early to say these rates are leveling off," he said.
Tuesday's report said the Detroit-Warren-Livonia, Mich. area also had the second-largest jobless rate increase over the last year of large cities, at 6.6 percentage points - just 0.1 point less than the Portland, Ore., area.
Similarly, year-over-year payrolls in the Detroit area declined by 8%, the largest drop of any area with annual average employment levels above 750,000.
Ripple effect: The impact of the ailing car industry has spread to other auto industry cities -- especially two in Indiana that topped the year-over-year unemployment rate increases for all 372 metropolitan areas.
Kokomo, Ind., posted a 11.7-percentage-point jump over last May. The unemployment rate stands at 18.8% in Kokomo, where one-fifth of the workforce is employed in the auto sector.
Kokomo's largest employer, Chrysler, is attempting to emerge from bankruptcy after being acquired by Fiat, leaving 5,000 Chrysler workers and thousands of retirees left uncertain.
The other Indiana area is Elkhart-Goshen, where the rate rose by 11.4 percentage points to 17.5%.
Overall, 112 cities had rates at 10% or higher, and 15 of those stood at 15% or more. The highest rate of unemployment for a metro area of any size was in El Centro, Calif., near the Mexican border, at 26.8%.

Features

These Fortune 100 employers have at least 350 openings each. What are they looking for in a new hire? More

It would be the world's second-biggest economy. See how big companies' sales stack up against GDP over the past decade. More