Stimulus spending short sighted - watchdog
Federal government is pushing out stimulus faster than expected. But states are using it to plug immediate gaps, rather than undertake long-term reforms.
Bailout tracker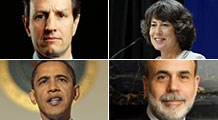 The government is engaged in a far-reaching - and expensive - effort to rescue the economy. Here's how you can keep tabs on the bailouts.
More
Map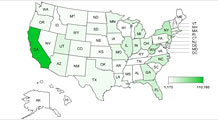 NEW YORK (CNNMoney.com) -- Fiscally-stressed states are using their stimulus dollars to satisfy immediate needs rather than undertake longer-term reforms, according to a government report released Wednesday.
For example, states are spending education funds to prevent layoffs and maintain programs, a Government Accountability Office report found.
Trying to survive one of the worst economic downturns since the Great Depression, state and school district officials say they don't have the money to undertake projects such as building new schools and expanding early-childhood education.
Similarly, states are using nearly half their infrastructure funds for pavement improvements, which can be implemented quickly and don't require environmental clearances and in-depth design work.
The $787 billion recovery act walks a fine line between trying to get funds out quickly to stimulate the economy and spurring longer-term initiatives.
In Flint, Mich., for instance, no new school buildings have been constructed in more than 30 years. While the district would love to use stimulus funds to renovate its facilities, the cash-strapped city must use the money to maintain current programs.
Near 2,000 teachers will retain their jobs in Florida's Miami-Dade district because of stimulus funds. Officials in half the states surveyed said recovery act money will prevent layoffs.
The recovery act's architects had hoped districts would use the funds to put in place longer-lasting educational reforms that improved student achievement. In order the receive the funds, schools must assure they will increase teacher effectiveness, provide support to turn around troubled schools and advance in creating college-ready and career-ready standards.
The budget crisis, however, is putting those efforts on the back burner.
"Many school district officials also reported that using [stimulus] funds for education reforms was challenging given other more pressing fiscal needs," according to the report.
GAO finds flaws
The GAO is charged with tracking stimulus spending in 16 states and the District of Columbia that combined will receive two-thirds of the funds. Wednesday's 161-page report is the second it has released.
The federal government is pushing out stimulus funds slightly faster than expected. As of June 19, $29 billion was given to states and localities -- 90% of which has gone toward Medicaid and education.
The money is helping states deal with their budget crunches, Acting Comptroller General Gene Dodaro told a congressional committee Wednesday.
Still, the agency found that some states have been giving short-shrift to a recovery act requirement that infrastructure projects be located in economically distressed areas. Officials in many states told the GAO that they had picked the projects based on other priorities and only later gave consideration to ones in economically troubled areas.
And some stimulus money is going untouched, in part because state agencies are still waiting for federal guidance or approval or are still soliciting bids. For instance, public housing agencies have only spent 1.1% of the federal money made available for rehabilitating apartments.
States are also cutting back on staffing, leading to concerns about how well they will be able to report their use of stimulus dollars. Officials are finding it tough to create initiatives -- such as a summer youth employment program -- in the tight timeframes required by the act.
"Once the recovery act was passed, states and local areas had only about 4 months to get their new summer youth employment activities up and running -- a process that officials told us would normally begin many months earlier," according to the report.
The GAO report recommended the White House improve reporting requirements and ensure more direct communication with state officials. It also raised red flags about the reliability of the data on the government's site, www.USAspending.gov, and the level of accountability for monitoring the funds' use.
What about the jobs?
Lawmakers, however, were more interested in grilling Robert Nabors, deputy director of the White House budget office, about the number of jobs the stimulus funds have created or saved.
The administration has said stimulus funds have already created or saved 150,000 jobs, and should create another 600,000 by summer's end. The figures are based on estimates that each $92,000 in stimulus money spent creates one job.
Nabors said that while America is still losing jobs, it is doing so at a slower pace because of stimulus money. The number of positions that disappeared in June, 467,000, was fewer than the monthly job-loss pace of 691,000 in the first quarter.
"We are making progress, but we have a long way to go," Nabors said.
Republican lawmakers lashed into Nabors, questioning his figures and saying that the recovery act hasn't lived up to President Obama's promises.
"How can you justify that?" said Rep. Jason Chaffetz, R-Utah, of the estimate.

Features

These Fortune 100 employers have at least 350 openings each. What are they looking for in a new hire? More

It would be the world's second-biggest economy. See how big companies' sales stack up against GDP over the past decade. More