Book 'em, Danno: Hawaii Five-0 hotel to reopen
The Ilikai Hotel, featured in the 1970s TV show, could be back in business soon after closing its doors last Friday due to financial woes.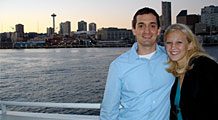 Thanks to sinking home prices, these 5 homebuyers were able to score deals in areas they couldn't previously afford.
NEW YORK (CNNMoney.com) -- The Ilikai Hotel, which was made famous by the TV show "Hawaii Five-0," could soon reopen its doors after the company that recently bought the Waikiki landmark shut it down last week.
Real estate investment firm iStar Financial Inc., which purchased the Ilikai for $51 million at a foreclosure auction in May, said that the hotel "will reopen as soon as practically possible under a new management team and operational structure."
The announcement came after iStar, which is based in New York City, said its subsidiary had reached an agreement with the union representing workers at the hotel. iStar had shut the Ilikai down Thursday after efforts to cut costs and become more efficient fell short.
The Ilikai was Hawaii's first high-rise luxury hotel when it opened in 1964. The distinctive Y-shaped building became an icon after being featured in the opening sequence of the 1970s police drama "Hawaii Five-0."
During its heyday, the Ilikai played host to U.S. presidents Lyndon Johnson and Gerald Ford. World famous celebrities such as Elvis Presley and baseball great Mickey Mantle also visited the hotel.
The 30-story hotel has 203 guest rooms, as well as 806 condominium and timeshare units that were not directly affected by the closure, iStar (SFI) said.
Under the new union contract, the Ilikai will rehire about 50 hotel employees. The hotel had roughly 65 full-time employees before it was shut down last week.
"We are optimistic that this new agreement will not only help to preserve jobs but also to help achieve the operational efficiencies that are needed to succeed," said Andrew Backman, an iStar spokesman, in a statement.

Features

These Fortune 100 employers have at least 350 openings each. What are they looking for in a new hire? More

It would be the world's second-biggest economy. See how big companies' sales stack up against GDP over the past decade. More