How AT&T gets stimulus funds
The nation's biggest telecom company is well positioned to get stimulus-related projects because of its reach with government agencies.
Map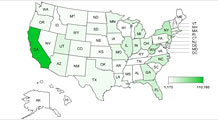 NEW YORK (CNNMoney.com) -- Big businesses are battling to take home chunks of the government's billion-dollar stimulus pie and AT&T is among the leaders on the telecom front.
While the telecom giant can't go after stimulus funds directly, its clients include many government agencies that are on the receiving end of those funds. And that puts AT&T in a strong position.
AT&T (T, Fortune 500) is by far the nation's largest telecom company, racking up $124 billion in sales last year. That's nearly double the revenue logged by its closest competitor, Verizon (VZ, Fortune 500).
AT&T also has a huge client base, which includes some of the largest federal and local government contracts. The company has been using that base as a springboard to search out more projects, especially as the consumer side of its business slumps in the recession.
"Every conversation we have with federal agencies is about stimulus dollars and how we can help," said Don Herring, senior vice president of AT&T Government Solutions.
The process. AT&T has vast resources and is not afraid to use them.
"We have full teams, assigned to every agency in the federal government, who try to better understand the nuances of every agency's mission and what they need," said Herring. "On a weekly basis, we'll say, 'Here's another idea about how you may want to do something.'"
Requests are coming from clients as well.
"Customers have been asking us how we can help them meet their technology and infrastructure modernization goals for stimulus," said Sherry Charles, AT&T's vice president of Wholesale and GEM Solutions. "It helps that we have longstanding relations with our customers."
The company said the process is identical to how it goes about hunting for other government contracts, which AT&T said is a roughly a $65 billion business for tech firms annually. Sometimes agencies give projects a direct go-ahead, but more often they request formal proposals so projects can be opened up for broader bidding.
So far, the stimulus process has been slow going, Herring said, with only some of the basic infrastructure funding trickling out.
AT&T's first stimulus-related contract came about through a prior relationship with a client: $419,000 to upgrade circuits in several Social Security Administration offices across the country. It's small relative to the $14.3 billion in stimulus funds already awarded to companies. But Herring noted that the vast majority of stimulus projects (more than $250 billion worth) have yet to be funded, and when the money begins to flow faster, AT&T will be well-positioned to be a part of bigger contracts.
Charles said the company is a good candidate help hospitals integrate electronic health records, which is being funded with $20 billion of stimulus money. AT&T has already signed a contract with the state of Tennessee to custom build a virtual private network for e-health information exchange, she added.
AT&T is also working hard to get involved with broadband services in rural America, smart grid wiring, and other health IT programs.
"It's still way to early to tell how AT&T will do, but they're going to compete," said Warren Suss, founder of Suss consulting, a federal IT and networking consultancy firm. "The battle is on, and it is still to be determined who's going to come out on top."
Size matters. AT&T is one of a very small handful of companies that offer practically every telecom service, including wireless, broadband, telephone and networking solutions.
"Agencies want one place to go, with one network and one carrier," said Herring.
Analysts say big firms like AT&T are more likely to get stimulus funds than smaller competitors, as they have the resources to quickly act on a wide array projects and have the infrastructure to bid on a large number of contracts.
"AT&T has positioned itself well as an aggressive competitor for stimulus," said Suss. "This isn't an inexpensive game -- it takes a lot of resources to go after these big federal deals."
Experience counts. AT&T has been working on government projects for years, and at one time, it was the only game in town. AT&T was a monopoly until the mid 1980s. In fact, it wasn't until 1989 that the government opened up its first telecom contract to a company other than AT&T, when 40% of the government's communications contracts were awarded to rival Sprint (S, Fortune 500), giving "just" 60% to AT&T.
AT&T struggled through the 1990s. And when those big federal telecom contracts were up for renewal 10 years ago, the company was completely left out for the first time ever.
But since then, AT&T has clawed its way back to the lucrative federal sphere, gaining scores of federal networking contracts with 20 different agencies when they were again up for renewal in 2006. The company said those contracts are worth more than $1 billion, with the first three alone worth $700 million.
"AT&T's star is rising," said Suss. "It has won many of the major battles ... and has been very aggressive with pricing."

Features

These Fortune 100 employers have at least 350 openings each. What are they looking for in a new hire? More

It would be the world's second-biggest economy. See how big companies' sales stack up against GDP over the past decade. More